After a successful inaugural year, the Bury 10 Mile is back!
Part of the new Bury Running Festival and run in partnership with Bury Council, this year there truly is an event for everyone. The new Bury 10 Mile will offer more experienced runners the chance to challenge themselves further, while taking in the sights of the town and being cheered on by the crowds.
So if you're looking for a new challenge, what are you waiting for? Sign up for this fantastic new event today!
Entry
Entrants must be 17 years or over on event day.
Run For All encourage people of all abilities to take part in the 10 Mile. Please contact us in advance with any specific requirements and we shall do our utmost to cater to these.
WHAT'S INCLUDED?
Chip timing
Finisher's goody bag
Exclusive medal
A fantastic experience!
Event timings
| | |
| --- | --- |
| 07.00 | Race office opens |
| 07.30 | Baggage store opens |
| 08.45 | Bury 10 mile Warm up |
| 09.00 | Bury 10 Mile Starts |
| 09.15 | Bury 10K Warm up |
| 09.30 | Bury 10K Starts |
Facilities
Race office
Further details of the location and opening times of the race office will be made available closer to event day.
Baggage store
Our baggage store is located in the event village area, in Parson's lane car park. Please ensure your bags are dropped in good time to make your way to your assembly zone.
Drink stations
Bottled water is available on course and at the finish. Please see the route map for locations. Competitors are advised to ensure that they consider the effects of dehydration and drink plenty of fluids to compensate.
Charity village
The Bury 10 Mile partners with several local and national charities. Our partner charities will have a presence within the event village to meet and greet their runners and raise awareness of the important work of those good causes.
First aid
Should you find you require medical assistance, personnel will be on hand to help at regular intervals on the course with fixed first aid stations located near to the water stations. In addition there will be a first aid unit and recovery area located near to the finish.
Food and Drink
There are a number of bars and cafés in the area that will be sure to welcome spectators and participants, and are often bursting with atmosphere after the event.
Route map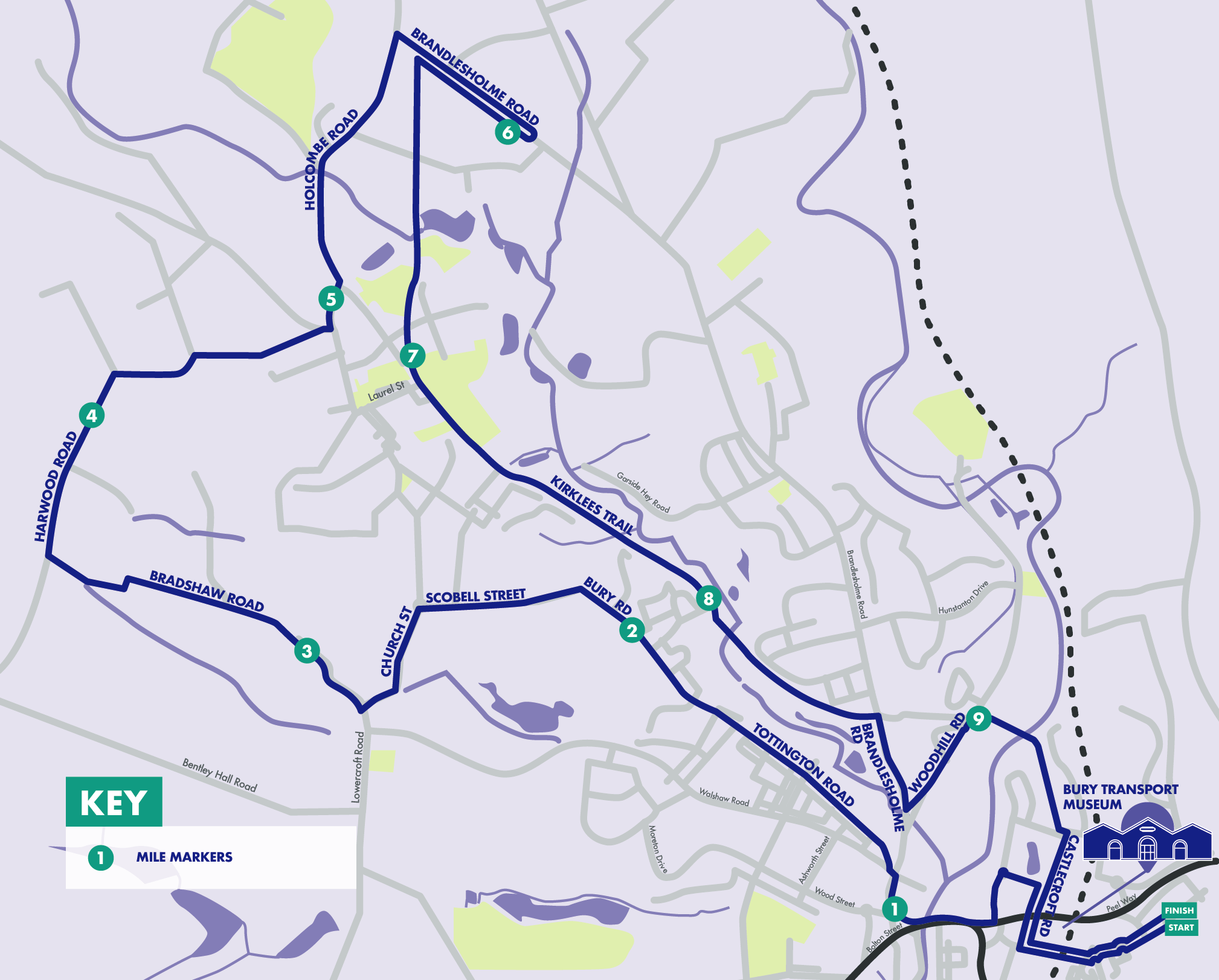 Headphones
SHOKZ – approved headphones for RUN FOR ALL events
Using bone conduction technology award winning SHOKZ (formerly AfterShokz) deliver stereophonic sound through your cheekbones to your inner ear.
This means you can enjoy your music and still hear everything around you including traffic, emergency vehicles and other warning noises as well as race instructions from marshals and fellow competitors -potentially preventing accidents caused by traditional headphones and earbuds that block out these sounds.
Bone-conduction is exclusively approved for use by UK Athletics. Official Headphone Partners of England, Scottish, Welsh Athletics and Athletics Northern Ireland.
15% discount offer. 
There is a 15% discount offer for all Run for All entrants. To receive this discount, entrants must purchase SHOKZ headphones via Up & Running and use a specific code. To receive this discount code, please contact our admin team via our contact us form here.
Race number Collection
The Bury Running Festival is a collection only event. You'll need to pick up your race number before or on event day
Further details on the collection location and opening times will be made closer to event day.   
Using your race number bib
Your timing chip is affixed to your race number, do not attempt to remove or fold the chip. Do not pierce the chip with safety pins.

Wear your chipped bib number on your chest on the outer layer of clothing e.g. if a running jacket is worn, wear your number on top of this. Do not obscure/ cover your bib number + chip with a bum bag/ running belt.

We encourage runners not to position their arms to start/stop a personal timing device on or right in front of the bib whilst running over the timing mats themselves as this impedes the signal. Arms can be positioned slightly away from the body, or the devices can be started/stopped when the runner isn't on the actual mat.

Race numbers are not interchangeable and entries cannot be assigned, transferred, sold or gifted to any third party. Do not under any circumstances allow anybody else to run with your race number. Amongst other issues, this can create major problems for the medical team should they need to treat unknown runners.

Your bib & timing chip does not need to be collected in after the event and is yours to keep a memento of your race day!
Can't run anymore?

Race numbers cannot be interchangeable and entries cannot be assigned, transferred, sold or gifted to any third party. Do not under any circumstances allow anybody else to run with your race number. Amongst other issues, this can create major problems for the medical team should they need to treat unknown runners. Anyone found to have done this will be disqualified
If you are from a charity and are interested in becoming an official partner or wish to learn more about how your could purchase guaranteed places, please email charities@runforall.com