The Arena Group Lincoln Fun Run is a great way to get active this year! 
With a new route for starting and finishing at Lincoln Cathedral its a great event to explore this incredible City. 
Entries are FREE for 2 to 14 years old's making this a fantastic fun day out for all the family. 
Taking place on the same day as the Asda Foundation Lincoln 10K the route offers the chance to experience a City Centre start/finish line surrounded by an electric atmosphere. 
Run For All events aim to be entirely inclusive, regardless of ability. So, if your child has mobility or other issues or has any other special considerations, please get in touch so we can help you and them have the best experience.
All finishers will be rewarded with goodies such as water, food and that all-important medal to show off to friends!
Event Distance: 3.6K
How to enter Instructions
Registering a young runner aged between 2 and 8 years old:
Using the Aged 18+ entry type, register the adult and within the booking process the system will ask you to provide the Full Name and age of the child/children you are registering.
Registering a young runner aged between 9 and 17 years old:
Entries must be completed by a parent/guardian aged 18 years or over on behalf of the child
Race Information
Collecting your race number is the main thing to remember ahead of the big event. You can do this at our race office which will be open between 12noon and 3pm on Saturday 13th June at Yarbrough Leisure Centre or from 7.30am on Sunday 14th June. 

Please bring safety pins with you as your race number will need to be attached to your t-shirt. 

All runners are required to assemble at Minster's Yard for a warm up before the start of their race.

We're sure lots of fans are coming to support you! Please get them to head to the start/finish line so they can see you zoom past them and collect your finishers medal.

Are you race ready? There isn't a baggage store for Fun Run run so please leave your bag and extra clothes with your family and friends who will be cheering you on.

To help you feel ready and raring to go, our friends from Active Nation will be offering a fun warm-up!

After you fly across the finish line, don't forget to collect your goodies including that all important medal. Running is thirsty work, so grab a free bottle of water too – provided by the Asda Foundation.

You will be directed to the collection point by our team of friendly volunteers where you'll be able to meet back up with your parents and guardians. This is where you can show everyone your brand new, shiny medal!

Please remember to pace yourself but, most importantly, enjoy your run! There will be a team of photographers on course who will want to see some of your cheesiest smiles. You'll get your personal photos emailed to you to purchase from marathonphotos.com the following week.

Should you not wish for your photo to be used in this way, please e-mail info@runforall.com prior to race day.
Route map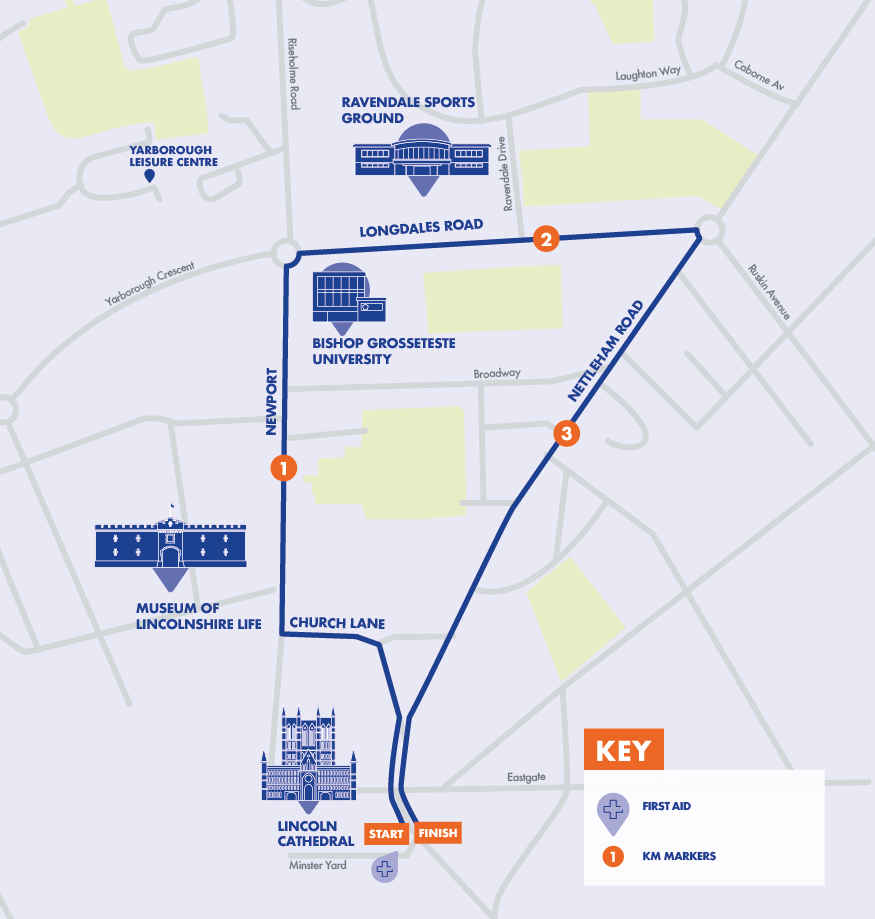 Partner charity
In 2020 the Lincoln fun run will be supporting Kids Yorkshire and Lincolnshire
Children taking part in the City of Lincoln Fun Run are encouraged to raise a small amount of money to help a local cause. They can, of course, choose any charity of their choice – or opt to support the event's official partner charity, KIDS Yorkshire and Lincolnshire. 
KIDS exists to enable all disabled children, young people and their families to enjoy their lives and our vision is a world in which all disabled children and young people to realise their aspirations.
KIDS support children with any impairment, from birth to 25 years, ensuring continuity of support as children become adults.
KIDS provide:
 Support for Parents of Disabled Children and Young People (practically and timely support via parent training, Sleep Programme and Befriending services)
 Direct work with Disabled children (Home Learning [Portage] services, specialist nurseries, playgroups, short breaks for disabled children, summer playschemes)
 Direct work with Disabled young people (specialist youth groups, short breaks, transition support, youth participation projects, young people's advocacy)
 Support for Siblings of Disabled Children and Young Carers
If you have requested a fundraising pack from one of the event's partner charities, this should be with you soon. If you have not received your fundraising pack at least 4 weeks before the event, please contact the partner charity you have selected directly.
Sponsors
The City of Lincoln Fun Run is brought to you with the support of...