Two exciting trail runs will take place on Sunday 21st August - with an intense, challenging 16 mile route, as well as a more manageable but equally enjoyable 5 mile route. So whether you're an experienced trail runner, or you've never strayed far from the beaten track, there's something to suit any runner with a taste for adventure.
Start Time: 9:00am
Think you've got what it takes to tackle the 16 mile trail run? This unique course starts near the iconic Ribblehead Viaduct and takes on difficult climbs, valleys, limestone trails and river paths along the Ribble Way.
Elevation map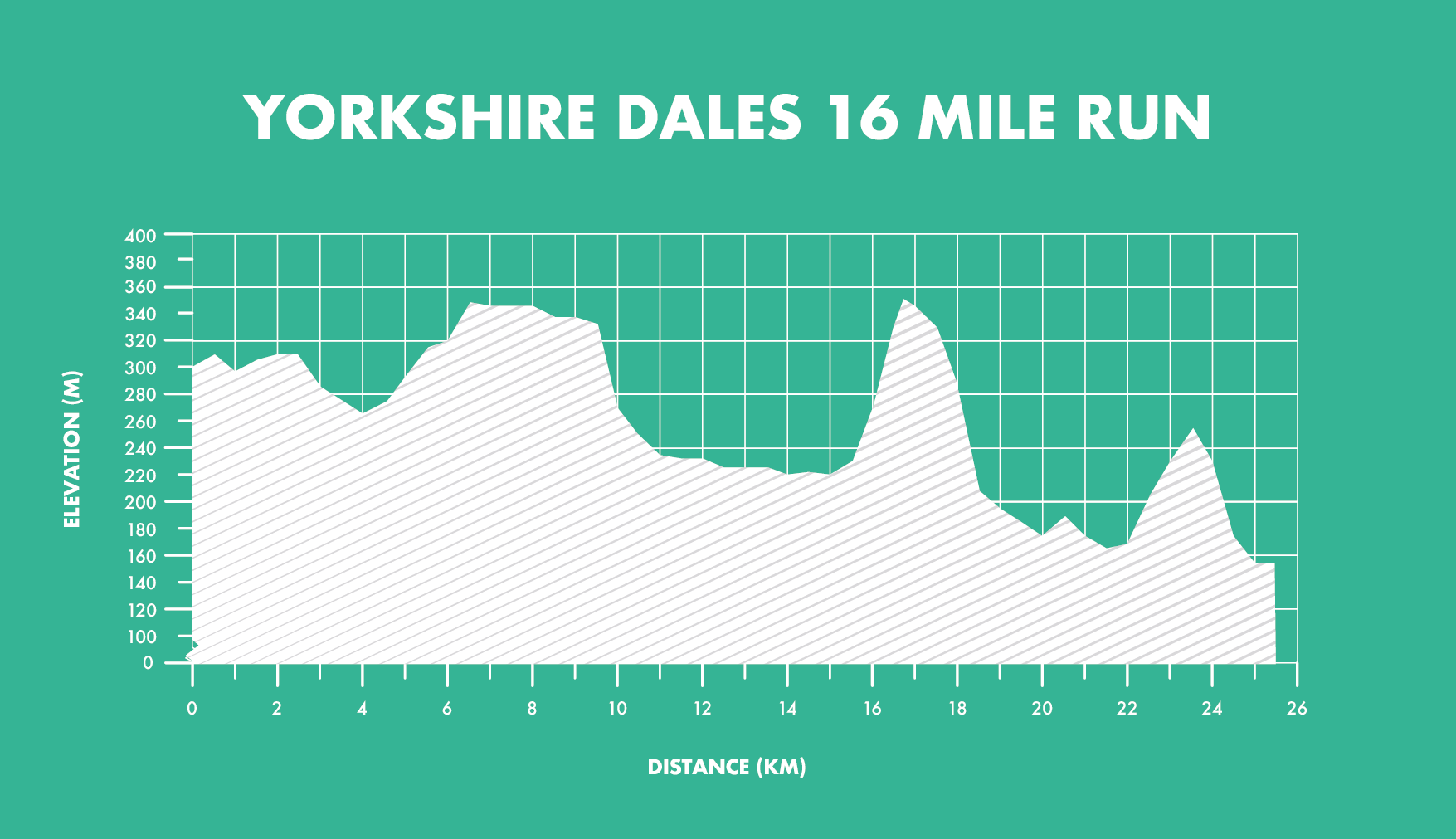 Start: Ribblehead Viaduct

Finish: Seattle Area Swimming Pool 

Perfect for: Experienced trail-runners and those wanting to take on a new challenge

Terrain: 

The 16-mile starts with a wide and fast road section for the first mile-and-a-half travelling South toward Hunter Hill.
The course changes to wide farm track, descending towards the bridges at Nether Lodge and passing over the River Ribble.
At 2.5 miles, the terrain changes again; climbing the Ribble Way over God's Bridge and climbing up the limestone landscape. Glance back at the top of the climb for spectacular views of Whernside and the Ribblehead Viaduct and the 3 miles already travelled.
Travelling to the North of the trees above High Birkwith, the Ribble Way drops onto the Limestone pavement with views towards Ingleborough. 
A short challenging section takes walkers over and around a valley with a steep ascent to continue on wide and flat grass sections travelling towards Sell Gill.
At around the 6-mile point, The Ribble Way and the Pennine Way combine – a challenging section for the first 200m of the descent towards Horton-in-Ribblesdale (and a strong recommendation to treat this section with caution!)
Having crossed the road at the designated point; runners continue towards the River Ribble, taking the narrow river path for the next 2 miles before taking the road for a half-mile leading to Helwith Bridge. 
This is followed by a challenging climb up Moor Head Lane before the section of flat marshland ahead. The course then descends through fields into Stainforth Village just before the 12-mile mark.
After crossing under the bridge, the course takes a steep descent on Dog Hill Brow and over the bridge, which sits just above Stainforth Force Waterfall. It is worth a pause under the tree cover to take this in before proceeding along the Ribble to Stackhouses, where the 16-mile route joins the 5-mile route at the weir crossing before climbing up through Langcliffe and the final descent onto the winding streets of Settle.

Event timings: All entrants are to register at North Ribblesdale Rugby Club and will be taken via bus to the official race start at Ribbleshead. Shuttle bus timing to be confirmed in event race guide.  

Registration - 7:15am to 07:45am
Event Start time - 09:00am

What's included?

Access to a route map via an app and/or a printable map
Official event timing and results
Coach from opposite the Seattle Area Swimming Pool to the start point at Ribblehead Viaduct
Course will be waymarked at key points, but participants will be expected to navigate the designated route
Checkpoints include water container re-fill opportunities, refuelling and toilet provision
Warm welcome back at the finish, where you will receive a wooden finisher's medal 

 
Start Time: 10:00am
This exciting loop course takes on riverside paths, open fields and a challenging climb through Langcliffe before descending back into Settle where the run started. Our 5-miler is an entry-level course that offers some challenges for anyone who wants to push themselves.
Elevation map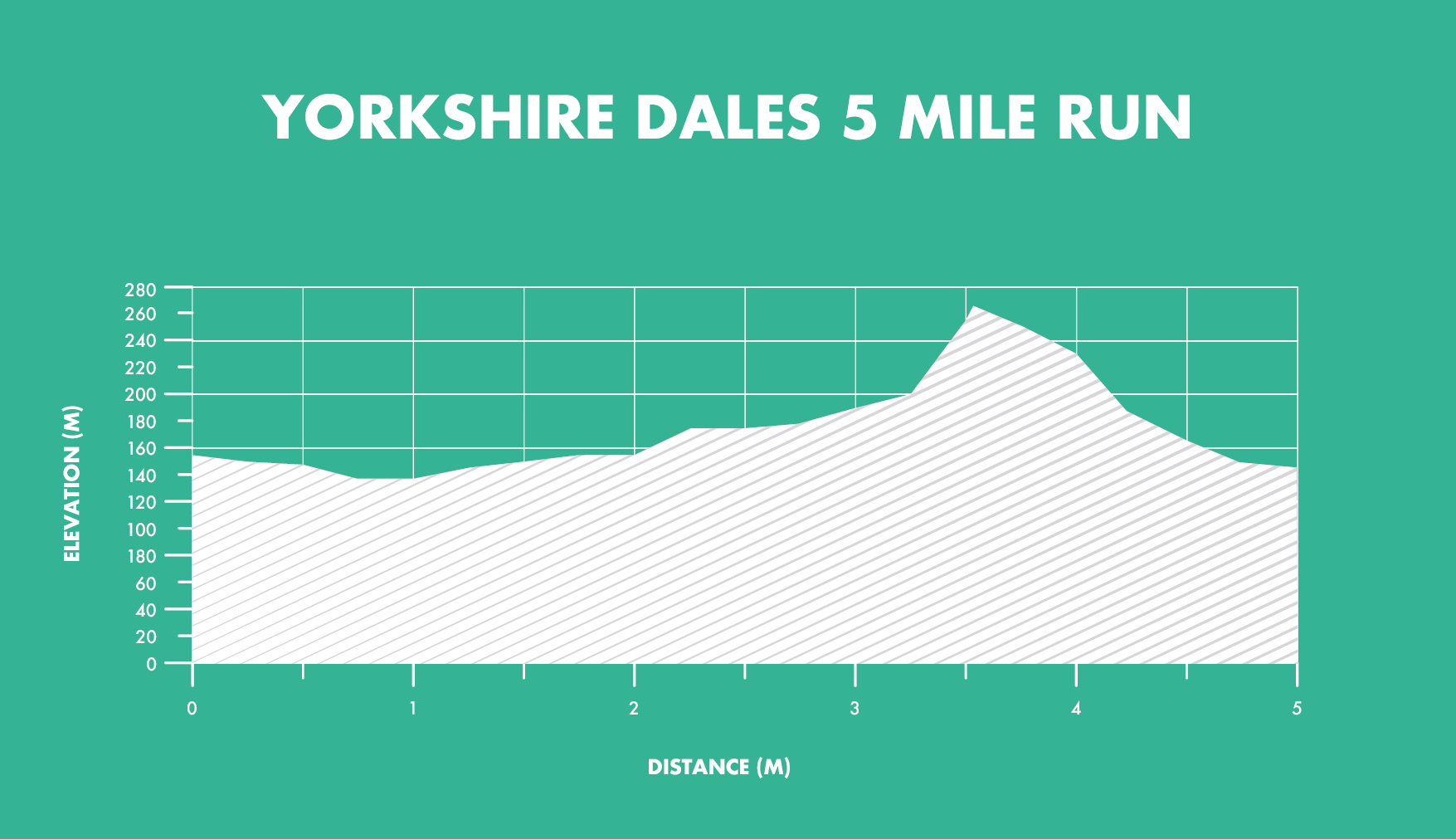 Start and finish: Settle Area Swimming Pool 

Perfect for: Beginners

Terrain: 

After the start and a short section weaving under the railway by road, the route quickly takes the quiet river path through Settle with views towards the famous dome of Giggleswick School.
The route leaves the river path and takes the underpass at Settle School after which point the trails begin, alternating field and stile. 
At the village of Stackhouses, runners will take a short section of road before heading towards the weir crossing over the River Ribble. 
The climbing starts after the weir and a short road crossing taking runners on their ascent to the picturesque village of Langcliffe and the final climb before descending back into Settle, weaving through the streets back to the finish.

 

Event timings: All entrants are to register at Settle Area Swimming Pool to register prior to the official start time

Registration - 09:00am to 10:00am
Event Start time - 10:00am

What's included?

Access to a route map via an app and/or a printable map
Official event chip timing and results
Course waymarked with signposts and marshals
Warm welcome back at the finish, where you will receive a finisher's medal

 
Plan your route
Travelling by road
Event car parking is available at Settle Football Club and we would suggest that walkers plan to car share wherever possible. 
Arriving by train
The Yorkshire Dales Festival event site is easily reached by rail with two train stations, Giggleswick and Settle, in close proximity to Settle Market Place.
Trains regularly arrive from destinations all over the North. Please visit www.nationalrail.co.uk for further information.
16-mile trail run and walk participants

All 16-mile trail run and walk participants will be transported from North Ribblesdale Rugby Club to Ribblehead Viaduct via coach. These coaches will be parked in Lower Greenfoot Car Park (next to North Ribblesdale Rugby Club). Please note that parking at Ribblehead will be very limited.
Our Partner Charity
The 2021 Yorkshire Dales Festival will see funds go towards the Jane Tomlinson Appeal and its recently launched bereavement service, OWLS.
Children struggling with grief after losing a loved one are being offered support from a new service launched by the Jane Tomlinson Appeal.
OWLS (Overcoming Worry, Loss and Sadness) will offer help to youngsters aged 4 to 11 who have lost a parent, sibling or other significant loved one.
Based in Leeds, the service will offer practical and emotional advice and support for families, schools workshops, activity days where children can meet others affected by bereavement and 1-2-1 child psychotherapy for those most severely affected.
The Jane Tomlinson Appeal is the legacy of the late Jane Tomlinson CBE, who made headlines worldwide when she completed a series of seemingly impossible challenges after being diagnosed with incurable cancer and given just six months to live.
After raising almost £2m for charity, Jane, from Rothwell, Leeds, died in 2007, leaving three children, Suzanne, Rebecca and Steven. Steven was just 10 when his mum died.
It has long been the children's wish that Jane's legacy could be used to help other grieving youngsters.
Rebecca Tomlinson said: "Having lost our mum, we understand all too clearly the impact bereavement can have on children and young people. 
"We've wanted to be able to do something to help for a long time so to be able to finally launch the OWLS service is a really proud day for us all.
"No child experiences grief in the same way; even brothers and sisters can cope differently. It can have a real impact, leaving children feeling anxious, sad and even angry.
"On top of all these feelings, there is a real chance, because of their change of circumstances, they might also have to move home or school – causing further upset.
"All of these things can, understandably, have a real impact on a child's mental health and behaviour."
Statistics show that adults who experience a bereavement in childhood are also more likely to experience problems in later life; they are more likely to suffer unemployment, have problems with substance abuse and are more likely to be involved in the criminal justice system.
Rebecca added: "With OWLS, we want to reach children when they need it most and when we can hopefully make the most difference."
Figures show that a parent of children under 18 dies every 22 minutes in the UK; around 23,600 a year. This equates to around 111 children being bereaved of a parent every day.
One in 29 schoolchildren has been bereaved of a parent or sibling – that's a child in every class.
In Leeds alone around 260 parents die each year.
Having identified a gap in bereavement support services in the Leeds area, especially those aimed at primary school children, the Jane Tomlinson Appeal has now established OWLS to:
Provide practical and emotional support to primary-aged children (and their families) who have experienced a sudden or expected death of a parent, sibling or other significant loved one
Offer reactive schools support teachers in a crisis situation and proactive schools workshops to help raise awareness of bereavement and to help reduce stigma around loss
Organise monthly peer activity days, where children (and their carers) can get together to share experiences, and crucially to be able to laugh and 'be children' without worrying about feeling guilty or upsetting others at home


Offer 1-2-1 child psychotherapy to children most severely affected; this offering sets the charity apart from most others and will help children who might presently have to wait months – or longer – for NHS therapy
The free service is now open for referrals, which can be made by a carer, health professional, teacher or anyone else close to the child. There is no need to go via a GP or health visitor.
Anyone who would like to donate to the service or would like to find out more about fundraising opportunities can go to https://www.janetomlinsonappeal.com/donate
OWLS is now also looking for volunteers to support children on the peer activity days. Volunteers will be given training and support. Anyone interested is asked to contact the service on owls@janetomlinsonappeal.com
Back to the overview Page
Back