After a three year hiatus, the Nottingham 10K is back for 2022. Taking place on the University of Nottingham campus, this fun and friendly event takes runners past the sights of Highfield Park Boating Lake and Wollaton Park in a run through the leafy and prestigious university grounds. 
Upon each entry, a £5 donation will be made to the Nottingham Breast Cancer Research Centre, based at the University of Nottingham.  
Whether you're looking to fundraise for a cause close to your heart, chase a new PB or to simply take part for fun, this event is for you. 
Entry
Entrants must be 15 years or over on event day
Run For All encourage people of all abilities to take part in the Nottingham 10K. Please contact us in advance with any specific requirements
WHAT'S INCLUDED?
Chip timing
Finisher's goody bag
Quality tech T-shirt
Exclusive medal
A fantastic experience!
Other runners say
"I did this with 4 friends from Derby Outdoor Fitness. Myself not being a runner I was pleased to finish under 1:20. The pacers were excellent, atmosphere excellent and very well organised.I hope to return next year to improve on my time. A very enjoyable event for a great cause."
Ailsa
Nottingham 10K
"Great course. Fantastically organised with THE best baggage reclaim I have ever had during a race. Great support from the marshals. Lovely T shirt and medal. Would definitely recommend! Love the Run For All series – superb as always."
Julie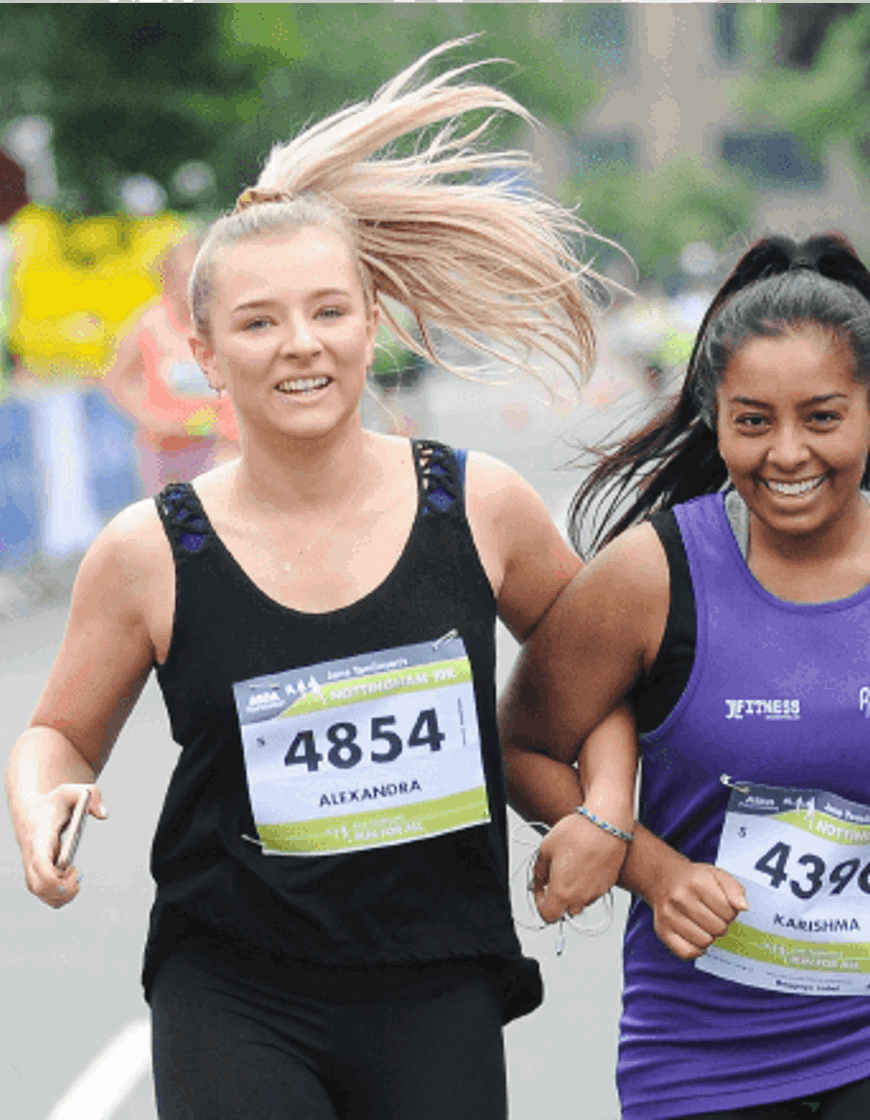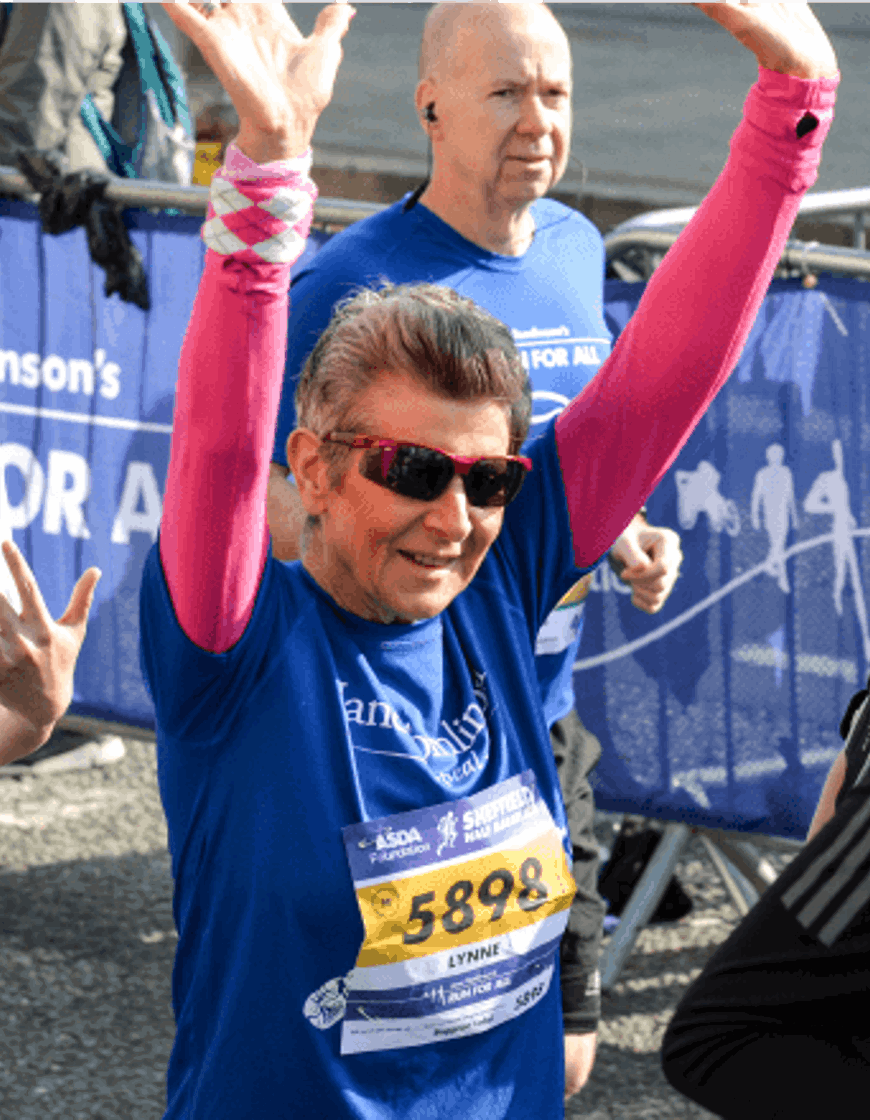 Event timings
| | |
| --- | --- |
| 07.30 | Race office, Baggage store & Assembly zones open |
| 09.10 | Nottingham 10K warm up |
| 09.30 | Nottingham 10K starts |
| 10.00 | Nottingham 10K winner expected |
Start/Finish
The exciting new route will take place almost exclusively on one of the UK's most eye-catching University campuses. It will also take in Nottingham's iconic Highfields Park Boating Lake. Check out our route map for more info.
Elevation Map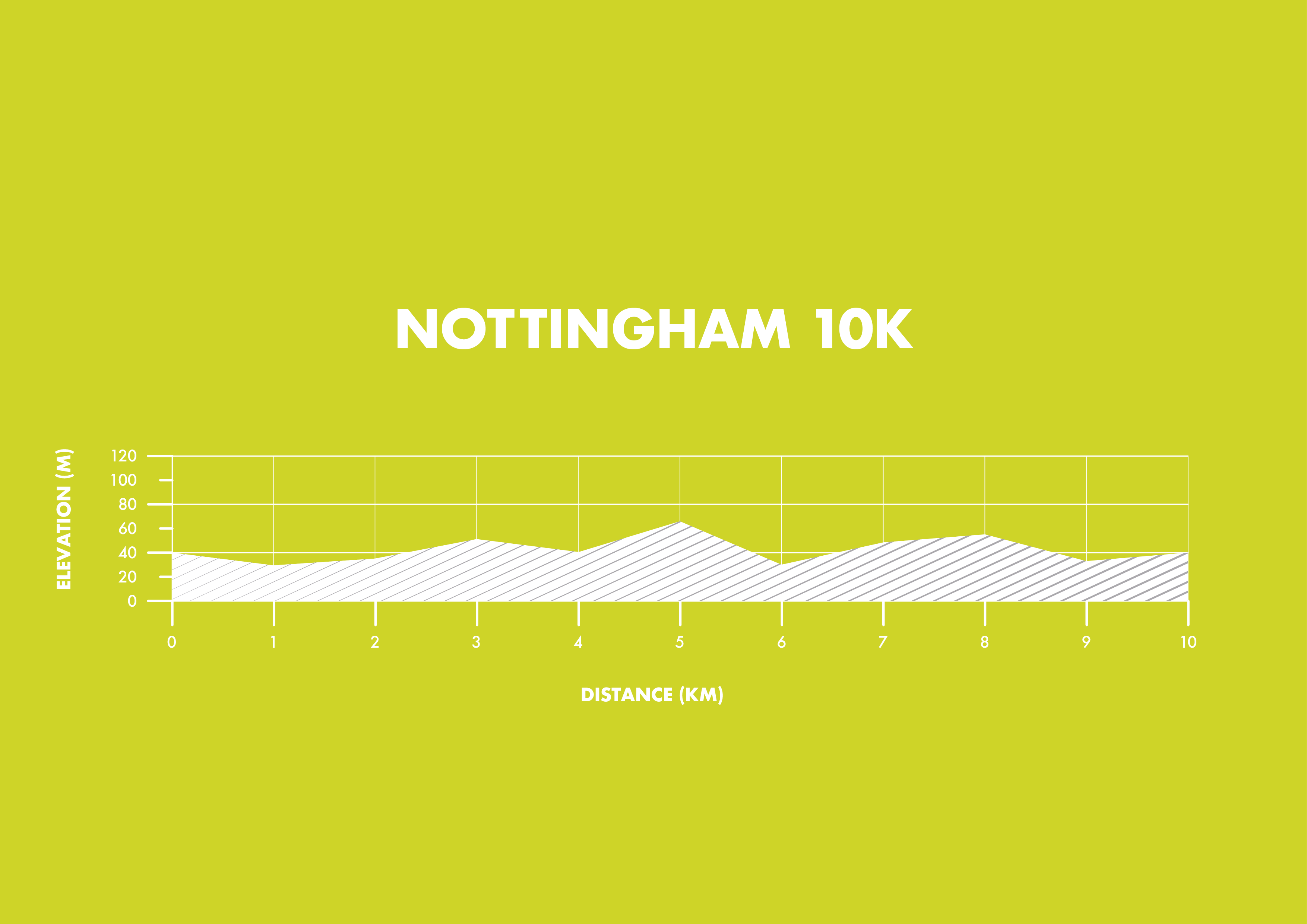 Facilities
Race office
The race office will be open on Sunday morning from 7.30am.
Baggage store
Runners will be able to deposit their baggage free of charge at our baggage store.
Drink stations
Bottled water is available on course and at the finish. Please see the route map for locations. Competitors are advised to ensure that they consider the effects of dehydration and drink plenty of fluids to compensate.
Support & entertainment
A wide variety of exciting entertainment will be on show along the route and in the event village, including local and cultural music groups, dance troupes and street performers.
Charity village
The Nottingham 10K is partnered to several local and national charities. Our partner charities will be on hand to meet and greet their runners and raise awareness of the important work they undertake.
First aid
Should you find you require medical assistance, personnel will be on hand to help at regular intervals on the course with fixed first aid stations located near to the water stations. In addition there will be a first aid unit and recovery area located near to the finish.
Food and Drink
A vibrant and varied array of food and drink concessions will offer refreshments in the Event Village.
Headphones
SHOKZ – approved headphones for RUN FOR ALL events
Using bone conduction technology award winning SHOKZ (formerly AfterShokz) deliver stereophonic sound through your cheekbones to your inner ear.
This means you can enjoy your music and still hear everything around you including traffic, emergency vehicles and other warning noises as well as race instructions from marshals and fellow competitors -potentially preventing accidents caused by traditional headphones and earbuds that block out these sounds.
Exclusively approved for use by UK Athletics. Official Headphone Partners of England, Scottish, Welsh Athletics and Athletics Northern Ireland.
15% discount offer. 
There is a 15% discount offer for all Run for All entrants. To receive this discount, entrants must purchase SHOKZ headphones via Up & Running and use a specific code. To receive this discount code, please contact our admin team via our contact us form here.
Race number Collection
THE NOTTINGHAM 10K IS COLLECTION ONLY
If you purchased your entry into this event before the 9th May, you will be able to collect your race number between Monday and Saturday of event week.
Our collection point will be from David Ross Sports Village at The University of Nottingham. Please access the campus via Beeston Lane.
Any entrant who has purchased an entry after the 9th May will be required to collect their race number on event day from our Race Office. Our Race Office will be located in our event village and will be open from 7:30am. 
Please see below the David Ross Sports Village collection times. 
Monday 16th May - 3.30pm - 7pm
Tuesday 17th May - 3:30pm - 7pm
Wednesday 18th May - 1:30pm - 7pm
Thursday 19th May - 3:30 - 7pm
Friday 20th May - 1:30pm - 8pm
Saturday 21st May - 10:30am - 3pm. 
Using your race number bib
Your timing chip is affixed to your race number, do not attempt to remove or fold the chip. Do not pierce the chip with safety pins.

Wear your chipped bib number on your chest on the outer layer of clothing e.g. if a running jacket is worn, wear your number on top of this. Do not obscure/ cover your bib number + chip with a bum bag/ running belt.

We encourage runners not to position their arms to start/stop a personal timing device on or right in front of the bib whilst running over the timing mats themselves as this impedes the signal. Arms can be positioned slightly away from the body, or the devices can be started/stopped when the runner isn't on the actual mat.

Race numbers are not interchangeable and entries cannot be assigned, transferred, sold or gifted to any third party. Do not under any circumstances allow anybody else to run with your race number. Amongst other issues, this can create major problems for the medical team should they need to treat unknown runners.

Your bib & timing chip does not need to be collected in after the event and is yours to keep a memento of your race day!
Can't run anymore?

Race numbers cannot be interchangeable and entries cannot be assigned, transferred, sold or gifted to any third party. Do not under any circumstances allow anybody else to run with your race number. Amongst other issues, this can create major problems for the medical team should they need to treat unknown runners. Anyone found to have done this will be disqualified
How to get there
Event parking
There will be a car park on Beeston Lane behind the Florence Boot Hall (NG7 2QY). Access to this car park will be from the University boulevard and then Beeston Lane.  
To leave the car park will be the same way you entered. 
Car park will be open from 7am. 
Travelling by bus
The Nottingham 10K start/finish line is an approximately 20-minute bus ride from Nottingham Bus Station. 
Travelling by train
Nottingham railway station has regular rail services from London, Birmingham, Derby, Leicester, Newark, Grantham, Worksop, Sheffield and Peterborough.
Interactive Road Closure Map