The Leeds Half Marathon is Yorkshire's biggest and probably loudest event of its kind. Jane herself was proud to start the race back in 2003.
The much-loved run raises hundreds of thousands of pounds for charity every year and often attracts more than 7,500 runners.
But what makes it special is the crowds. Support for runners along the route is always phenomenal, whatever the weather. Every participant will get a boost from the words of encouragement they receive.
Like all our events, the Leeds Half attracts runners of all abilities and ages. With a fantastically vibrant atmosphere guaranteed, this run could be right up your street.
So get yourself to Leeds and let's see you on the start line.
Entry
Online entries for the 2023 Leeds Half Marathon are not yet open. However you can register your interest here.
Entrants must be 17 years or over on event day.
What's included?
Chip timing
Finisher's goody bag
Exclusive medal
Memories of a brilliant day!
Other runners say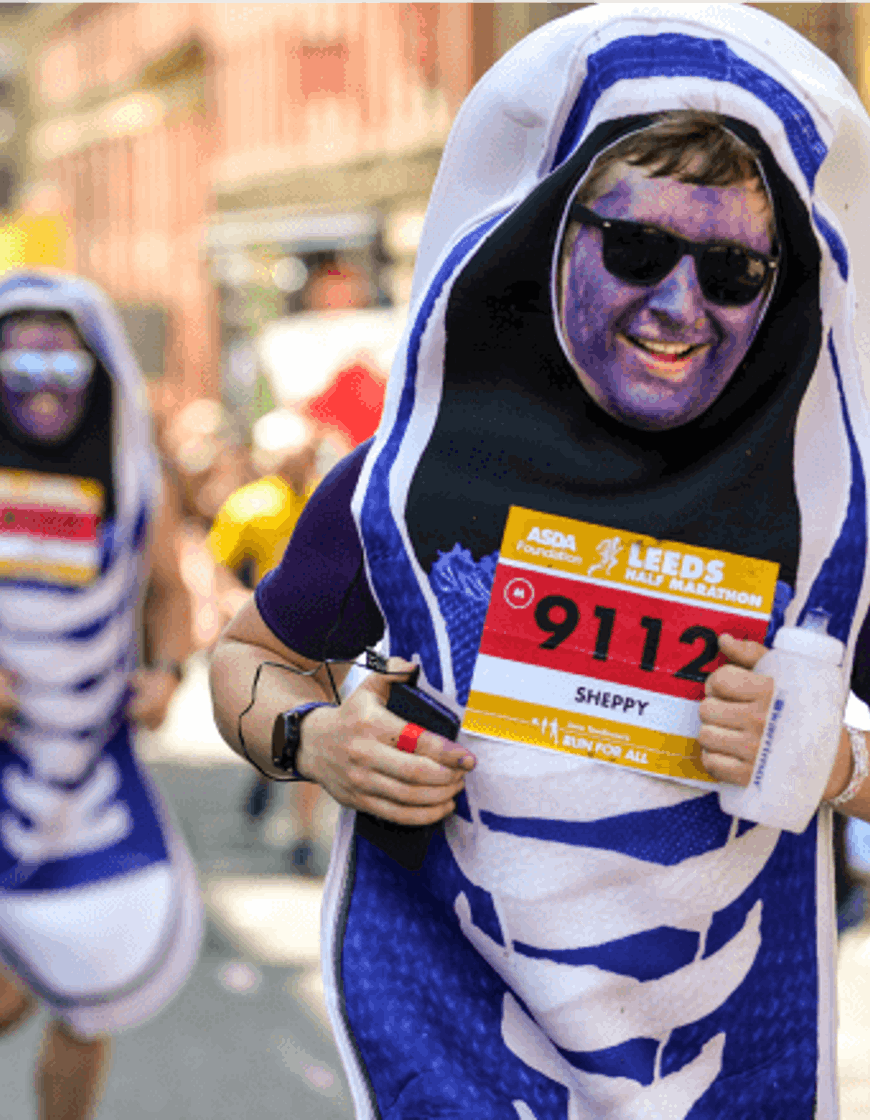 Facilities
Toilets
Run For All operate with a zero tolerance policy and any runners seen urinating anywhere other than the facilities provided will be disqualified. There will be some toilets within the Event Village
Baggage Store
The baggage store will be located within our Event Village.
Drink stations
Bottled water is available on course and at the finish. Please see the route map for locations. Competitors are advised to ensure that they consider the effects of dehydration and drink plenty of fluids to compensate.
Race Office
The Race Office will be situated in our event village.
Event Village
The Leeds Half Marathon partners with several local and national charities. Our partner charities will be on hand in to meet and greet runners and to raise awareness of the important work they do. Exact location of Event Village to be made available closer to event day.
Goody bags
A goody bag awaits each finisher – along with a drink of Erdinger Alkoholfrei.
Assembly zones
There will be assembly zones split by colour. The colour of the assembly zone you are in will be displayed on your running number.
Headphones
SHOKZ – approved headphones for RUN FOR ALL events
Using bone conduction technology award winning SHOKZ (formerly AfterShokz) deliver stereophonic sound through your cheekbones to your inner ear.
This means you can enjoy your music and still hear everything around you including traffic, emergency vehicles and other warning noises as well as race instructions from marshals and fellow competitors -potentially preventing accidents caused by traditional headphones and earbuds that block out these sounds.
Bone-conduction is exclusively approved for use by UK Athletics. Official Headphone Partners of England, Scottish, Welsh Athletics and Athletics Northern Ireland.
15% discount offer. 
There is a 15% discount offer for all Run for All entrants. To receive this discount, entrants must purchase SHOKZ headphones via Up & Running and use a specific code. To receive this discount code, please contact our admin team via our contact us form here.
Race number delivery
Your race number will be posted to you 7-10 days before the start of the event. 
Race Office opening times will be made available closer to event day. 
Address changes
If you have changed address since registration, it is your responsibility to inform us. However, we will also be sending out an email around eight weeks before the event to ask if you have changed address recently.
What if I'm coming from overseas?
Race numbers will not be posted to those participants who provided a postal address located outside of the UK as we can't guarantee the safe delivery of the race number.
However, if you do have a UK address that your race number can be posted to prior to the event, please contact us at info@runforall.com with details. Alternatively you will be able to collect your race number from the Race Office on the event weekend. Opening hours of the Race Office will be detailed on our website at www.runforall.com in the week prior to the event.
Using your race number bib
Your timing chip is affixed to your race number, do not attempt to remove or fold the chip. Do not pierce the chip with safety pins.

Wear your chipped bib number on your chest on the outer layer of clothing e.g. if a running jacket is worn, wear your number on top of this. Do not obscure/ cover your bib number + chip with a bum bag/ running belt.

We encourage runners not to position their arms to start/stop a personal timing device on or right in front of the bib whilst running over the timing mats themselves as this impedes the signal. Arms can be positioned slightly away from the body, or the devices can be started/stopped when the runner isn't on the actual mat.

Race numbers are not interchangeable and entries cannot be assigned, transferred, sold or gifted to any third party. Do not under any circumstances allow anybody else to run with your race number. Amongst other issues, this can create major problems for the medical team should they need to treat unknown runners.

Your bib & timing chip does not need to be collected in after the event and is yours to keep a memento of your race day!
Race numbers cannot be...

interchangeable and entries cannot be assigned, transferred, sold or gifted to any third party. Do not under any circumstances allow anybody else to run with your race number. Amongst other issues, this can create major problems for the medical team should they need to treat unknown runners.
How to get there
Travelling by car
From the M1, leave at junction 45 and take the third exit signposted A63/Pontefract Lane. Continue straight over three roundabouts, following signs for East St/A61. When reaching the junction, keep right to leave the A63 and continue onto the A61. On reaching the junction with Crown Point Road, keep right to continue to follow the A61.
By rail and bus
Frequent direct trains carry visitors from London to Leeds in just over two hours. There are also regular services from Scotland, the North East, the Midlands and across the Pennines.
For more information go to www.nationalrail.co.uk or call 08457 48 49 50.
Car parks nearby
Woodhouse Lane Car Park is the closest Leeds City Council car park to the start of the Leeds Half Marathon and is open 24 hours. 
By plane
Leeds Bradford International Airport is eight miles North of the city. For flight information go to LBA.co.uk.
A half-hourly Airlink Bus (no 757) travels between the airport, Leeds City Bus and Coach Station and the City Train Station. Contact 0113 345 7676 or visit www.wymetro.com.