The Leeds Half Marathon is one of Yorkshire's biggest event of its kind. Jane herself was proud to start the race back in 2003.
The much-loved run raises hundreds of thousands of pounds for charity every year and often attracts thousands of runners.
But what makes it special is the crowds. Support for runners along the route is always phenomenal, whatever the weather. Every participant will get a boost from the words of encouragement they receive.
Like all our events, the Leeds Half attracts runners of all abilities and ages. With a fantastically vibrant atmosphere guaranteed, this run could be right up your street.
So get yourself to Leeds and let's see you on the start line.
Entry
Entrants must be 17 years or over on event day.
What's included?
Chip timing
Finisher's goody bag
Exclusive medal
Memories of a brilliant day!
Elevation Map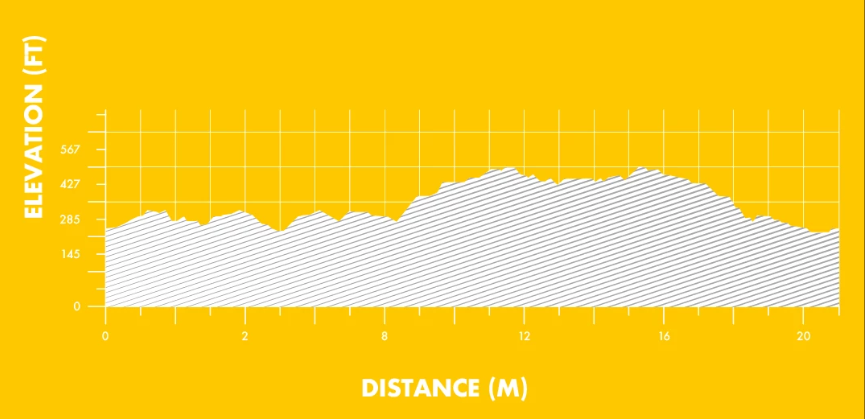 Facilities
Race Office
Opens at 7.00am in the Event Village.
Baggage Store
The Leeds Half Marathon Baggage will be located in the Headingley Stadium East Stand Long Room. This will open at 7:00am
Water Stations
Bottled water is available on 3miles, 6miles, and 10mile. Competitors are advised to consider the effects of dehydration and drink plenty of fluids to compensate.
Energy Stations
High 5 Gels are available at miles 6 miles and 10 miles. High 5 tabs will be available at mile 8.
Massage
Post-event massage will be available in the event village.
Support & entertainment
A variety of performers and charity cheerleaders will be on hand to keep you motivated around the course.
First aid
Should you find you require medical assistance, personnel will be on hand to help at regular intervals on the course with fixed first aid stations located near to the water stations. There will also be a first aid unit and recovery area located near to the finish.
Headphones on event day
Shokz – Official Sports Headphones Partner of England Athletics & Run For All

Shokz is the world's leading manufacturer of open-ear headphones, technology that enables you to listen to music whilst staying connected to your surroundings. Shokz sports headphones are the only headphones that are approved for use in all road races under the UK Athletics Rules of Competition.

Safety is a top priority

The partnership between Shokz, England Athletics and Run For All recognises that many athletes enjoy listening to music while warming up, training or competing. Whether it is taking part in events, running solo or socially with others, it's key that their experience is safe and enjoyable.

Music makes running more joyful

Running with music would make your run more joyful. With Shokz open-ear headphones, runners could listen to their favourite playlist or broadcast on the run while maintaining sociability.  

15% discount offer

There is a 15% discount offer for all Run For All entrants. To receive this discount entrants must purchase Shokz headphones via Up & Running and use a specific code. To receive this discount code, please contact our admin team via our contact form here
Race number delivery
Your race number will be posted to you 7-10 days before the start of the event. 
Race Office opening times will be made available closer to event day. 
Address changes
If you have changed address since registration, it is your responsibility to inform us. However, we will also be sending out an email around eight weeks before the event to ask if you have changed address recently.
What if I'm coming from overseas?
Race numbers will not be posted to those participants who provided a postal address located outside of the UK as we can't guarantee the safe delivery of the race number.
However, if you do have a UK address that your race number can be posted to prior to the event, please contact us at info@runforall.com with details. Alternatively you will be able to collect your race number from the Race Office on the event weekend. Opening hours of the Race Office will be detailed on our website at www.runforall.com in the week prior to the event.
Using your race number bib
Your timing chip is affixed to your race number, do not attempt to remove or fold the chip. Do not pierce the chip with safety pins.

Wear your chipped bib number on your chest on the outer layer of clothing e.g. if a running jacket is worn, wear your number on top of this. Do not obscure/ cover your bib number + chip with a bum bag/ running belt.

We encourage runners not to position their arms to start/stop a personal timing device on or right in front of the bib whilst running over the timing mats themselves as this impedes the signal. Arms can be positioned slightly away from the body, or the devices can be started/stopped when the runner isn't on the actual mat.

Race numbers are not interchangeable and entries cannot be assigned, transferred, sold or gifted to any third party. Do not under any circumstances allow anybody else to run with your race number. Amongst other issues, this can create major problems for the medical team should they need to treat unknown runners.

Your bib & timing chip does not need to be collected in after the event and is yours to keep a memento of your race day!
Race numbers cannot be...

interchangeable and entries cannot be assigned, transferred, sold or gifted to any third party. Do not under any circumstances allow anybody else to run with your race number. Amongst other issues, this can create major problems for the medical team should they need to treat unknown runners.
Don't forget to plan your journey
Check out the information below to be sure you get to the event on time. Note, things get pretty busy, so leave lots of time and watch out for road closures.
How to get there
Bus (local)
Please note there may be diversions in place due to the event's road closures, but buses will still be running throughout the day.  For local bus times and to plan your journey please visit www.firstbus.co.uk/leeds or www.wymetro.com/buses/
Train
Arriving by Train – Please note that there will be no trains arriving into Headingley or Burley Park before 0900 on Sunday 14th May.  There are also limited trains arriving into Leeds (LDS) before 0900 on event day.For train travel information please visit www.nationalrail.co.uk or call 08457 48 49 50
Bike
Headingley Stadium has a number of cycle racks available inside the venue. These will be available to participants and spectators who have a ticket. Please note that bikes are left entirely at the owner's risk.
Blue Badge Holder
If you are a Blue Badge holder and would like a place reserving, please contact info@runforall.com providing your full name, address, car registration, date of birth and contact number. Please note you will need your Blue Badge to access the parking facilities.
Interactive Road Closure Map