Get the family together and get active with this exciting challenge - part of the Recipharm GEAR 10K in King's Lynn.
The event is open to children and adults of all abilities, and takes in a 1.8KM course, setting off from Tuesday Market Place. The start will take place after the 10K event.
Every finisher will receive a Recipharm Mini Gear medal.
The minimum age to take part on event day is 6 years old. Children aged 8 and under must be accompanied by an adult entry for the duration of the run. Anyone under the age of 18 must have parental consent to take part.
If you or your child has special considerations, please contact us - we'll be happy to help you all have the best experience on the day! 
How to enter instructions
How to register a young runner aged between 6 and 8 years old:
All youngsters aged between 6 and 8 years old must be accompanied by an adult aged 18 years or over.  Each registered adult can accompany a maximum of two children. Please follow the instructions below in order to register the young person.
Register the adult participant first.
At the end of the adult registration, make a note of the reference number.  You will need this when registering the young person.
Register the young person. You will be asked for the name and reference number of the accompanying adult runner.
How to register a young runner aged between 8 and 14 years old:
Entries must be completed by a parent/guardian aged 18 years or over on behalf of the child
How to register a runner aged 15 years old and over:
 If the runner is aged 15 - 17, there is a section to be completed by a parent/guardian aged 18 years or over agreeing to the terms and conditions of the event.
Race Information
Collecting your race number is the main thing to remember ahead of the big event. Details of Race Office opening times will be announced in due course. 

Please bring safety pins with you as your race number will need to be attached to your t-shirt.

All runners are required to gather in the signed areas on Tuesday Market Place prior to the event. Mini Runners please arrive between 8.30am and 9.30am. Family and friends who are coming to cheer you on can make their way to the start and finish area outside of the Corn Exchange.

Runners will be guided to the start line by event marshals. Please do not attempt to make your own way to the start before you are told to do so. Remember to pace yourself and take it steady, particularly at the start and when there are lots of people. Please be considerate of other runners  at all times. Please note that adults accompanying one or two children must stay with the youngsters for the duration of the run.

We're sure lots of fans are coming to support you! Please get them to head to the start/finish line so they can see you zoom past them and collect  your finishers medal. 

There is no baggage for the Recipharm Mini GEAR so please leave your bag and extra clothes with your family and friends who will be cheering you on. 

To help you feel ready and raring to go, our friends from Alive Leisure will be offering a fun warm-up at 9.35am

After you fly across the finish line, don't forget to collect your goodies including that all important medal. Running is thirsty work, so grab a free bottle of water too – provided by the Asda Foundation.

You will be directed to the collection point by our team of friendly volunteers where you'll be able to meet back up with your parents and guardians. This is where you can show everyone your brand new, shiny medal!

Please remember to pace yourself but, most importantly, enjoy your run! There will be a team of photographers on course who will want to see some of your cheesiest smiles. You'll get your personal photos emailed to you to purchase from marathonphotos.com the following week.

Should you not wish for your photo to be used in this way, please e-mail info@runforall.com prior to race day.
Route map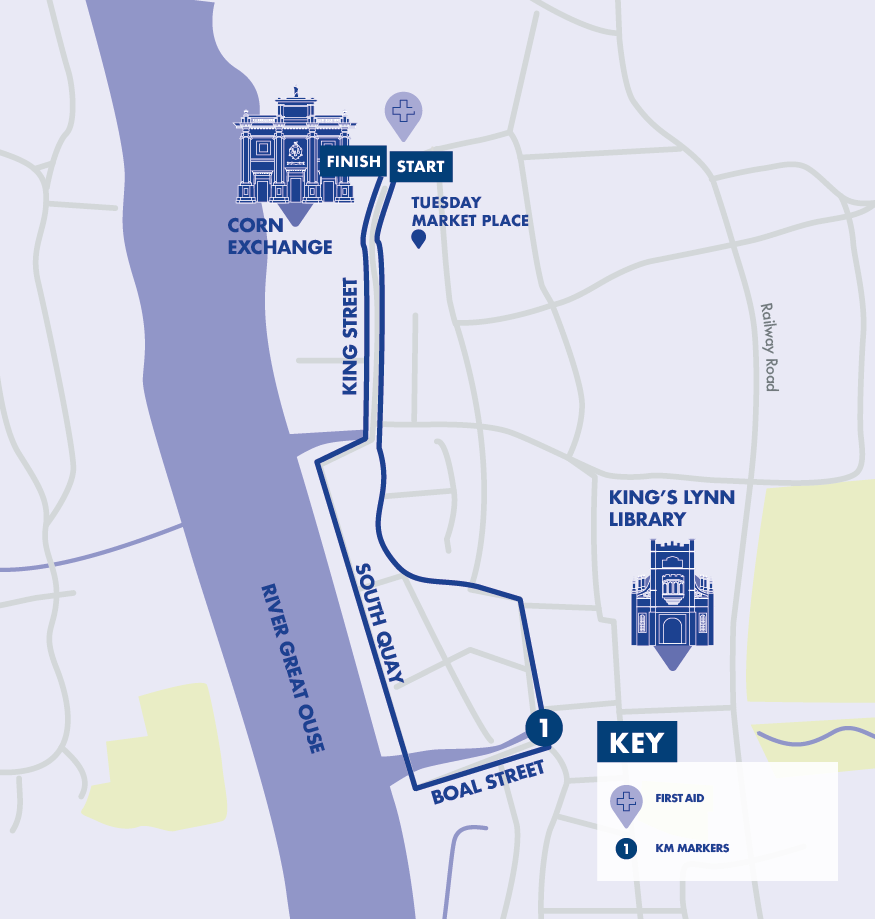 Partner charity
In 2022 the Recipharm Mini GEAR will be supporting East Anglian Air Ambulance
Children taking part in the Mini GEAR are encouraged to raise a small amount of money to help a local cause. They can, of course, choose any charity of their choice – or opt to support the event's official partner charity, East Anglian Air Ambulance.
East Anglian Air Ambulance exists to save lives by delivering highly skilled doctors and critical care paramedics to seriously ill or injured patients in the region. They are operational 365 days a year, 24 hours a day by air and road across Norfolk, Suffolk, Cambridgeshire and Bedfordshire. They are only kept airborne thanks to their incredible supporters.
Find out more about East Anglian Air Ambulance
Sponsors
The Mini GEAR is brought to you with the support of...