It has been described as one of the country's most beautiful city runs. Since its launch in 2009, the event has also grown into one of Yorkshire's most popular 10Ks.
The York 10K offers runners the unique opportunity to race through the heart of this wonderful city.
The route starts and finishes in Knavesmire Road, close to York Racecourse. It then takes in some of the city's most historic landmarks, including the ancient city walls, Clifford's Tower and the minster.
The atmosphere will be electric from start to finish.
And for runners chasing that elusive PB, the flat and fast course is perfect.
Entry
Online entries are now open
Entrants must be 15 years or over on event day
Run For All encourage people of all abilities to take part in the York 10K. Please contact us in advance with any specific requirements
WHAT'S INCLUDED?
Chip timing
Finisher's goody bag
Exclusive medal
An option to pre-order a finisher t-shirt
A fantastic experience!
Other runners say
"This is one of my favourite races of the year and one which I keep coming back to."
Claire
"As with all the Run for All events, the organisation is superb. The nice thing about this race is that you can park at the racecourse so that part is stress free and super easy. The course is flat and very pretty going through York city centre and by the river Ouse."
Jo
York 10K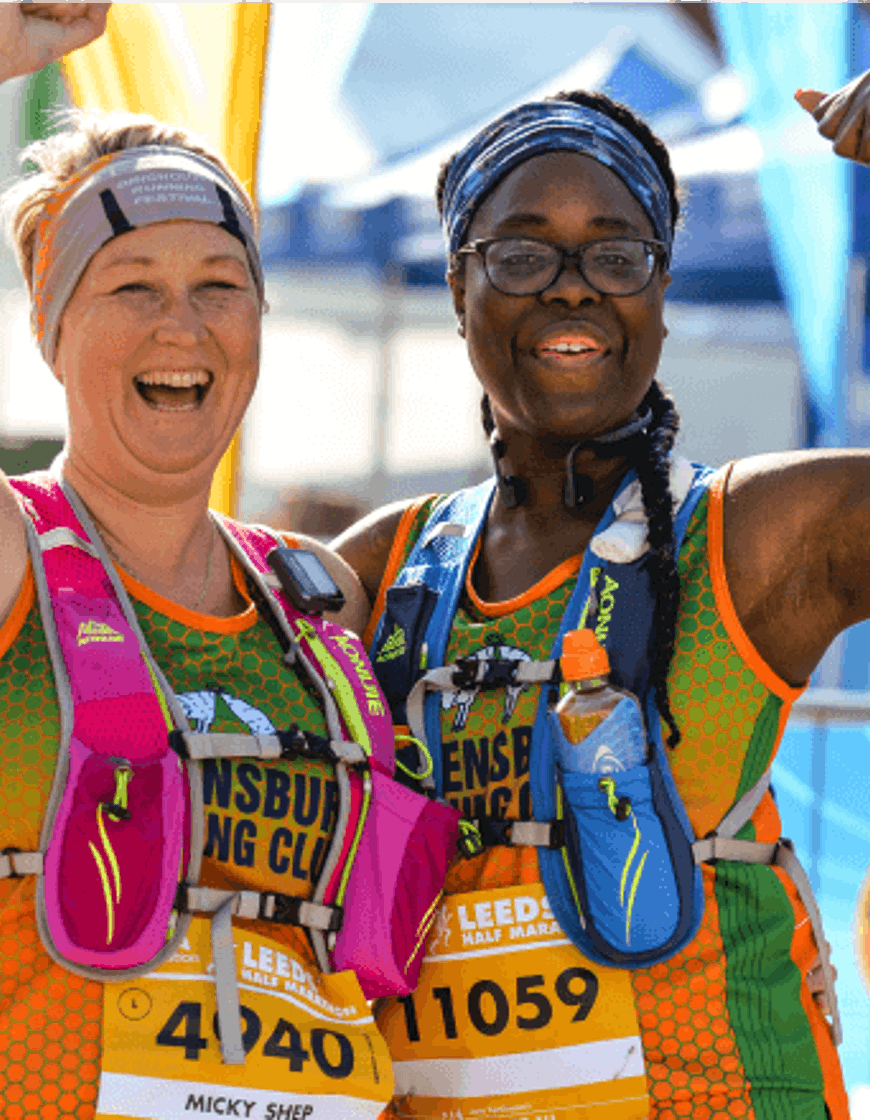 Event timings
| | |
| --- | --- |
| 07.45 | Race office, baggage store and assembly zones open |
| 09.15 | York 10K warm up |
| 09.30 | York 10K starts |
| 10.00 | First male finisher expected |
| 10.05 | First female finisher expected |
Elevation Map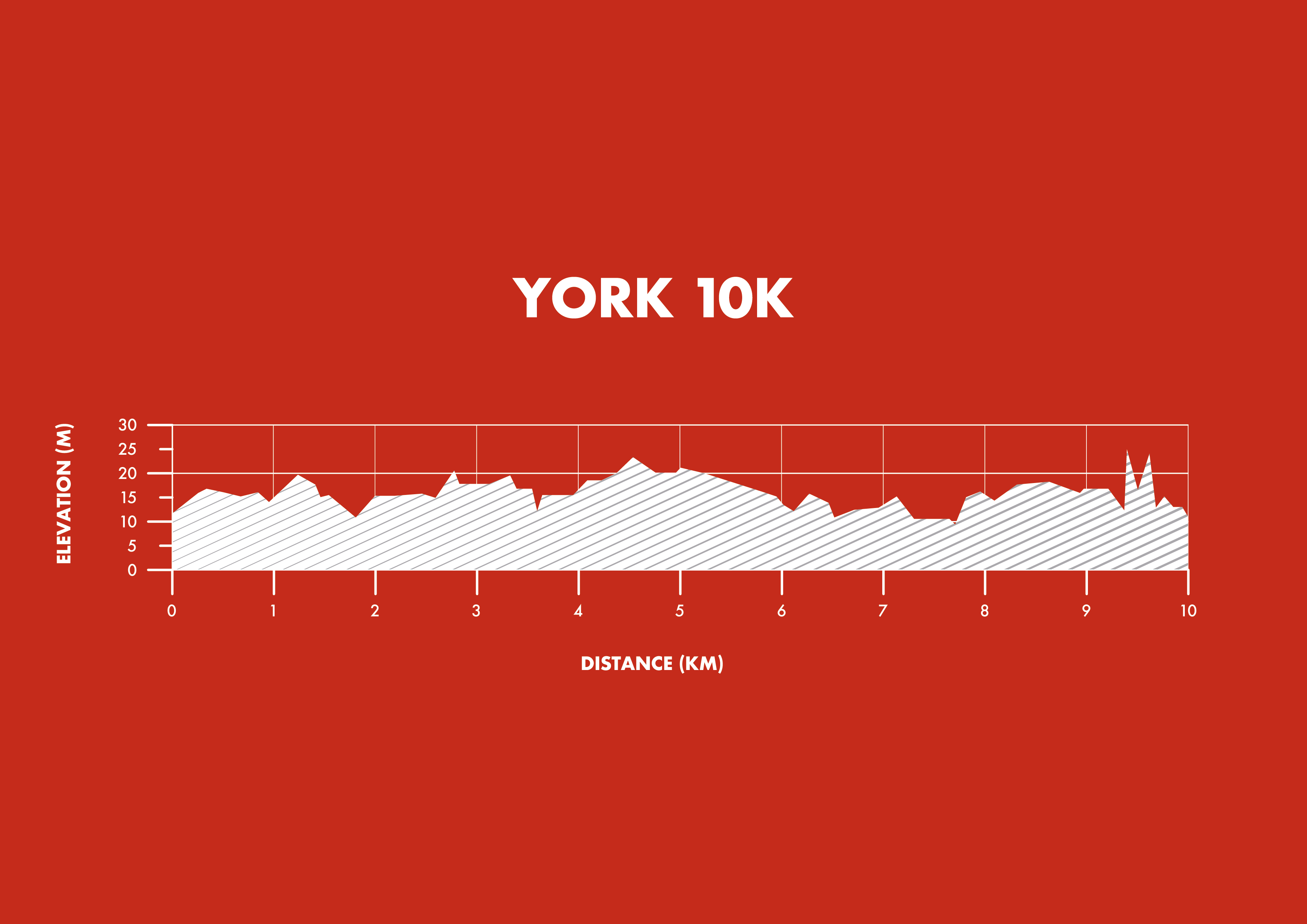 Facilities
Race office
The race office is open on Sunday morning from 7.30am.
Baggage store
Runners will be able to deposit their baggage free of charge at our baggage store.
Drink stations
Bottled water is available on course and at the finish. Please see the route map for locations. Competitors are advised to ensure that they consider the effects of dehydration and drink plenty of fluids to compensate.
Support & entertainment
A variety of performers and charity cheerleaders will be on hand to keep you motivated around the course. If you are an entertainer and would like to join us please get in touch via info@runforall.com
Charity village
Our partner charities will be on hand to meet and greet their runners and raise awareness of the important work they do.
First aid
Should you find you require medical assistance, personnel will be on hand to help at regular intervals on the course with fixed first aid stations located near to the water stations. In addition there will be a first aid unit and recovery area located near to the finish.
Food and Drink
A vibrant and varied array of food and drink outlets will offer refreshments in the Event Village.
Headphones
SHOKZ – approved headphones for RUN FOR ALL events
Using bone conduction technology award winning SHOKZ (formerly AfterShokz) deliver stereophonic sound through your cheekbones to your inner ear.
This means you can enjoy your music and still hear everything around you including traffic, emergency vehicles and other warning noises as well as race instructions from marshals and fellow competitors -potentially preventing accidents caused by traditional headphones and earbuds that block out these sounds.
Bone-conduction is exclusively approved for use by UK Athletics. Official Headphone Partners of England, Scottish, Welsh Athletics and Athletics Northern Ireland.
15% discount offer. 
There is a 15% discount offer for all Run for All entrants. To receive this discount, entrants must purchase SHOKZ headphones via Up & Running and use a specific code. To receive this discount code, please contact our admin team via our contact us form here.
Race number delivery
Your race number will posted to the address that you entered when you registered for the event. Race numbers will start to be posted to your registered address from around 7 -10 days prior to the event. If you register on event week, then you will need to collect your race number from our race office on event weekend.  
Further details will be shared nearer to the event.
Address changes
If you have changed address since registration, it is your responsibility to inform us. However, we will also be sending out an email around eight weeks before the event to ask if you have changed address recently.
What if I'm coming from overseas?
Race numbers will not be posted to those participants who provided a postal address located outside of the UK as we can't guarantee the safe delivery of the race number.
However, if you do have a UK address that your race number can be posted to prior to the event, please contact us at info@runforall.com with details. Alternatively you will be able to collect your race number from the Race Office on the event weekend. Opening hours of the Race Office will be detailed on our website at www.runforall.com in the week prior to the event.
Using your race number bib
Your timing chip is affixed to your race number, do not attempt to remove or fold the chip. Do not pierce the chip with safety pins.

Wear your chipped bib number on your chest on the outer layer of clothing e.g. if a running jacket is worn, wear your number on top of this. Do not obscure/ cover your bib number + chip with a bum bag/ running belt.

We encourage runners not to position their arms to start/stop a personal timing device on or right in front of the bib whilst running over the timing mats themselves as this impedes the signal. Arms can be positioned slightly away from the body, or the devices can be started/stopped when the runner isn't on the actual mat.

Race numbers are not interchangeable and entries cannot be assigned, transferred, sold or gifted to any third party. Do not under any circumstances allow anybody else to run with your race number. Amongst other issues, this can create major problems for the medical team should they need to treat unknown runners.

Your bib & timing chip does not need to be collected in after the event and is yours to keep a memento of your race day!
Can't run anymore?

Race numbers cannot be interchangeable and entries cannot be assigned, transferred, sold or gifted to any third party. Do not under any circumstances allow anybody else to run with your race number. Amongst other issues, this can create major problems for the medical team should they need to treat unknown runners. Anyone found to have done this will be disqualified
How to get there
Travelling by car
York has great motorway links to the M1, M62 and A1 (M), putting it within easy driving distance of all of the UK's major cities. Newcastle and Liverpool are less than two hours away, while London and Scotland are approximately four.  
Parking for the day
Details of event day parking will be made available closer to event day. 
Travelling by Bus
Details about specific on the day park and ride service will be made available closer to event day. 
Traveling by Foot
The start and finish area and Event Village are situated a 30-minute walk from the city centre, or a 20-minute walk from York Railway Station.  Walkers can access the venue from any direction, irrespective of road closures.         
Travelling by Rail
York is on the UK's main East Coast line and travelling by train is both fast and easy. It takes just two hours to reach York from London, while Edinburgh is around two and half hours away. There are also direct services into York from Liverpool, Manchester, Birmingham and the South West. Go to www.nationalrail.co.uk for more information.