The RAM 5 Mile is one of the newest additions to the Run For All calendar. This is an event for runners of all ages and abilities, providing an even greater boost for charities and a fun and friendly way to inspire more people to get active.
The 5-mile distance features the same start and finish as Ramathon and will set off from Iron Gate. It will take runners on the same route as the half marathon distance, running through the city centre for the first 2 miles. Shortly after 2 miles, runners will then make their way towards Derby County's Pride Park Stadium and head back towards the city centre, finishing where the journey began at Iron Gate. 
Entry
Online entries for the 2024 Derbion RAM 5 mile are now OPEN
Entrants must be a least 15 years or over on event day.
What's Included?
Chip timing
Finisher's goody bag
Option to purchase a quality tech t-shirt
Exclusive medal
Memories of a brilliant day!
Event timings
| | |
| --- | --- |
| 07.15 | Race office & assembly areas open |
| 07.15 | Baggage store opens |
| 08.55 | Ramathon warm-up |
| 09.13 | Wheelchair race starts |
| 09.15 | Ramathon Race starts |
| 09.30 | RAM 5 Mile starts |
Elevation Map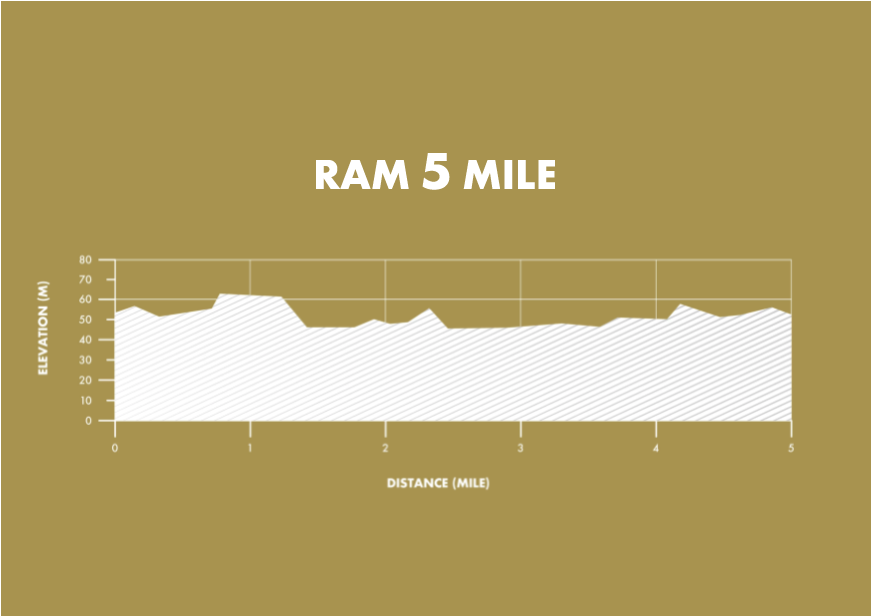 Facilities
Race Office
Will be located in the event village and open from 7.15 am on Sunday. Please note that you don't have to register on the day.
Event Village
Playing host to our partner charities, Race Office, baggage tents our event village is located on Market Place.
Baggage Store
Please leave time to drop your baggage at the baggage store which will open in the Market Place event village at 7.15am. You will be able to retrieve your baggage from the same store after your run.
Goody bags
A selection of goodies awaits each finisher. There'll be plenty of tasty treats and an event t-shirt you can wear with pride to remind yourself of your achievement.
Friends & family meeting point
Make the most of our meeting points, located in Market Place, so your friends and family can meet you after the race with ease.
Toilets
Toilets can be found in the event village in Market Place.
Shokz – Official Sports Headphones Partner of England Athletics & Run For All

Shokz is the world's leading manufacturer of open-ear headphones, technology that enables you to listen to music whilst staying connected to your surroundings. Shokz sports headphones are the only headphones that are approved for use in all road races under the UK Athletics Rules of Competition.

Safety is a top priority

The partnership between Shokz, England Athletics and Run For All recognises that many athletes enjoy listening to music while warming up, training or competing. Whether it is taking part in events, running solo or socially with others, it's key that their experience is safe and enjoyable.

Music makes running more joyful

Running with music would make your run more joyful. With Shokz open-ear headphones, runners could listen to their favourite playlist or broadcast on the run while maintaining sociability.  

15% discount offer

There is a 15% discount offer for all Run For All entrants. To receive this discount entrants must purchase Shokz headphones via Up & Running and use a specific code. To receive this discount code, please contact our admin team via our contact form here
Race number collection
All RAM 5 Mile entrants will be required to collect their race number over the event weekend. 
Further details will be shared nearer to the event.
Using your race number bib
Your timing chip is affixed to your race number, do not attempt to remove or fold the chip. Do not pierce the chip with safety pins.

Wear your chipped bib number on your chest on the outer layer of clothing e.g. if a running jacket is worn, wear your number on top of this. Do not obscure/ cover your bib number + chip with a bum bag/ running belt.

We encourage runners not to position their arms to start/stop a personal timing device on or right in front of the bib whilst running over the timing mats themselves as this impedes the signal. Arms can be positioned slightly away from the body, or the devices can be started/stopped when the runner isn't on the actual mat.

Race numbers are not interchangeable and entries cannot be assigned, transferred, sold or gifted to any third party. Do not under any circumstances allow anybody else to run with your race number. Amongst other issues, this can create major problems for the medical team should they need to treat unknown runners.

Your bib & timing chip does not need to be collected in after the event and is yours to keep a memento of your race day!
Can't run anymore?

Race numbers cannot be interchangeable and entries cannot be assigned, transferred, sold or gifted to any third party. Do not under any circumstances allow anybody else to run with your race number. Amongst other issues, this can create major problems for the medical team should they need to treat unknown runners. Anyone found to have done this will be disqualified
£1 parking for entrants

Courtesy of our proud title sponsors Derbion, their shopping centre car park is the official car park for this event. Entrants will be able to park for £1. More details are to be emailed on event week.
How to get there
Travelling by car
The city centre is 15 minutes from junction 24 of the M1 and accessible via the A6, A50, A38 and A52.
Car parks nearby
The Derby City Council have provided a discounted parking rate for all runners for Derby Running Festival; this includes all council car parks around the city.
You will need to purchase a parking ticket beforehand and reserve it at a discounted cost of £2 with £1 going to the Jane Tomlinson Appeal.   
Please click here to purchase the ticket
Arriving by train
Frequent direct trains connect London and Derby in just 93 minutes. There are also regular services from Scotland, the North East, the Midlands and across the Pennines.
For more information go to www.nationalrail.co.uk or call 08457 48 49 50.
Travelling by Bus
National Express coaches operate daily to Derby from across the UK. Trent Barton (www.trentbarton.co.uk) and Arriva (www.arrivabus.co.uk/Derby) operate services from Derby Bus Station.
Travelling by Air
Derby is 30 minutes from East Midlands Airport. More information at www.east-midland-airport-guide.co.uk. Half-hourly Skylink buses operate between the airport and Derby.