Staged in partnership with Sheffield City Council, the Asda Foundation Sheffield 10K is set right in the heart of South Yorkshire's famous Steel City.
A fantastic atmosphere is always generated by the enthusiastic local support. Thousands took part in 2019 and it's guaranteed to be bigger and better this year.
So book your place now and we'll see you there!
Entry
Online entries are now OPEN
Entrants must be 15 years or over on event day
Run For All encourage people of all abilities to take part in the Asda Foundation Sheffield 10K. Please contact us in advance with any specific requirements
WHAT'S INCLUDED?
Chip timing
Finisher's goody bag
Quality tech T-shirt
Exclusive medal
A fantastic experience!
Event timings
| | |
| --- | --- |
| 11.00 | Race office, baggage store and assembly zones open |
| 13.00 | Sheffield 10K warm up |
| 13.30 | Sheffield 10K starts |
| 14.00 | First male finisher expected |
| 14.05 | First female finisher expected |
Elevation Map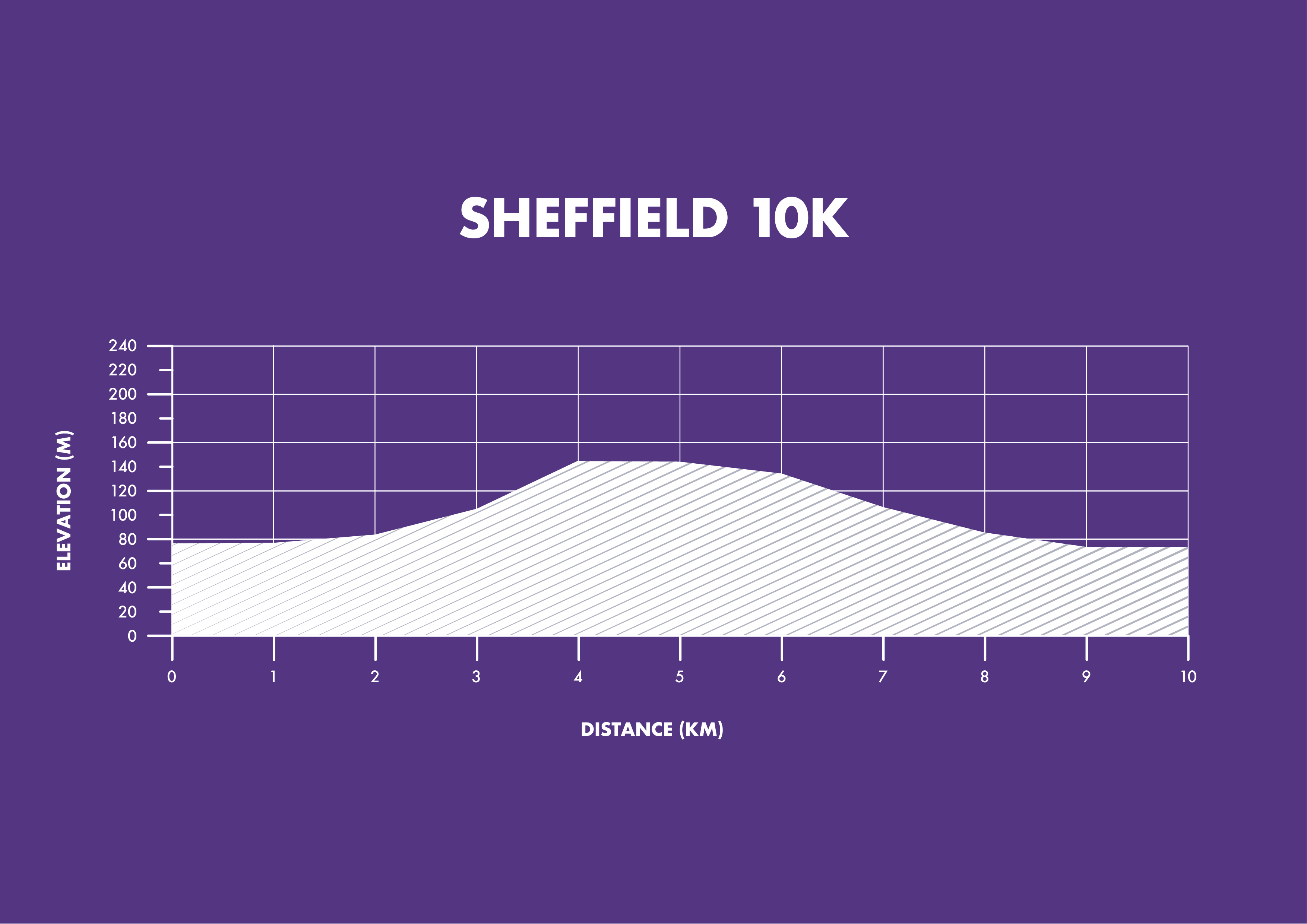 Facilities
Race office
Your Race Office is located in the Event Village and open between 12.00pm – 3.00pm on Saturday and then from 7.30am on Sunday. Please note, if you have already received your race number, you don't have to register on the day... you're all set to go!
Baggage store
Our baggage store is located on Surrey Street. Please ensure your bags are dropped in good time to make your way to your assembly zone.
Drink stations
Bottled water is available on course and at the finish. Please see the route map for locations. Competitors are advised to ensure that they consider the effects of dehydration and drink plenty of fluids to compensate.
Event village
Playing host to our wonderful partner charities, including our very own Jane Tomlinson Appeal, the event village will be situated in Tudor Square.
First aid
Should you find you require medical assistance, personnel will be on hand to help at regular intervals on the course with fixed first aid stations located near to the water stations. In addition there will be a first aid unit and recovery area located near to the finish
Food and Drink
There are a number of bars and cafés in the area that will be sure to welcome spectators and participants, and are often bursting with atmosphere after the event.
Headphones
Running in headphones is permitted. However, it is vital you can still hear marshals' instructions, emergency vehicles and fellow competitors throughout the event, so please set your volume accordingly.
Why not try out some UKA approved Aftershokz?
Race number delivery
Your race number will posted to the address that you entered when you registered for the event. Race numbers will start to be posted to your registered address from around 7–10 days prior to the event.
If you register on event week, then you will need to collect your race number from our race office on event weekend.  
If you have changed address since registration, it is your responsibility to inform us. However, we will also be sending out an email around eight weeks before the event to ask if you have changed address recently.
The specific dates when you will receive your race number will be added in due course.
What if I'm coming from overseas?
Race numbers will not be posted to those participants who provided a postal address located outside of the UK as we can't guarantee the safe delivery of the race number.
However, if you do have a UK address that your race number can be posted to prior to the event, please contact us at info@runforall.com with details. Alternatively you will be able to collect your race number from the Race Office on the event weekend. Opening hours of the Race Office will be detailed on our website at www.runforall.com in the week prior to the event.
Address changes
If you have changed address since registration, it is your responsibility to inform us. However, we will also be sending out an email around eight weeks before the event to ask if you have changed address recently.
Using your race number bib
Your timing chip is affixed to your race number, do not attempt to remove or fold the chip. Do not pierce the chip with safety pins.

Wear your chipped bib number on your chest on the outer layer of clothing e.g. if a running jacket is worn, wear your number on top of this. Do not obscure/ cover your bib number + chip with a bum bag/ running belt.

We encourage runners not to position their arms to start/stop a personal timing device on or right in front of the bib whilst running over the timing mats themselves as this impedes the signal. Arms can be positioned slightly away from the body, or the devices can be started/stopped when the runner isn't on the actual mat.

Race numbers are not interchangeable and entries cannot be assigned, transferred, sold or gifted to any third party. Do not under any circumstances allow anybody else to run with your race number. Amongst other issues, this can create major problems for the medical team should they need to treat unknown runners.

Your bib & timing chip does not need to be collected in after the event and is yours to keep a memento of your race day!
Can't run anymore?

Race numbers cannot be interchangeable and entries cannot be assigned, transferred, sold or gifted to any third party. Do not under any circumstances allow anybody else to run with your race number. Amongst other issues, this can create major problems for the medical team should they need to treat unknown runners. Anyone found to have done this will be disqualified