The Ramathon is the oldest and biggest event of its kind in Derbyshire. It was organised by Run For All for the first time in 2018.
This race has proved to be an extremely popular addition to Run For All's events calendar, attracting thousands of runners and raising loads of cash for good causes.
The event will be bigger and better than ever. The exciting new route starts and finishes in Iron Gate close to Derby Cathedral and takes in Pride Park Stadium, Alvaston Park and the stunning scenery of Elvaston Castle Country Park.
The course is fast and flat. A fantastically vibrant atmosphere on the day is guaranteed.
As well as being the pride of the city, runners crossing the finish line can look forward to some great rewards including a bespoke t-shirt, medal and goody bag containing well-earned post-race treats.
Entry
Online entries for the 2024 Derbion Ramathon are now OPEN
Entrants must be 17 years or over on event day.
What's Included?
Chip timing
Finisher's goody bag
Option to purchase a quality tech T-shirt
Exclusive medal
Memories of a brilliant day!
Other runners say
"Thought the second half of the route through Elvaston Castle park and along the river was very lovely and a nice change from the road. Great local support and very well staffed. A great experience for my first half."
Helen Brown
Derby Half Marathon
"Registration was perfect as was pre-race information. Baggage deposit/ recovery system was fast and effective. Marshals were fantastic. Thanks for a really good day."
Colin Johnstone
Derby Half Marathon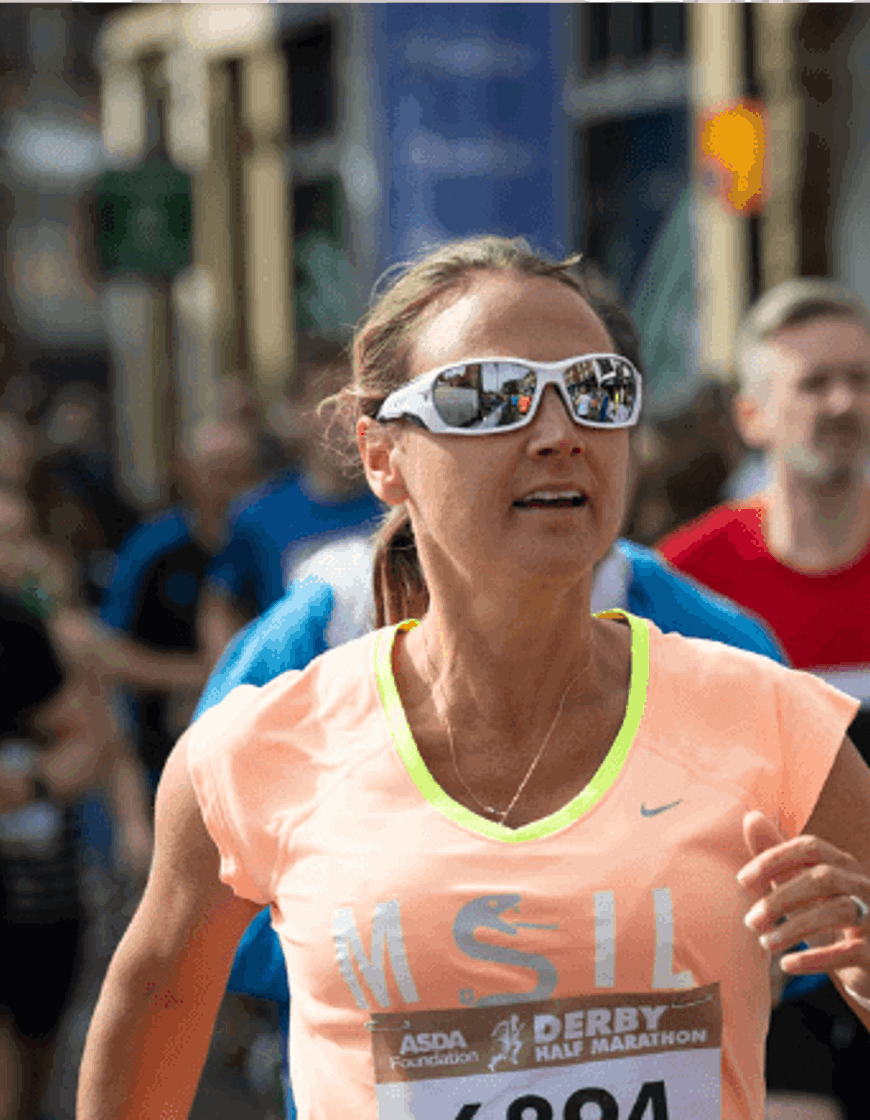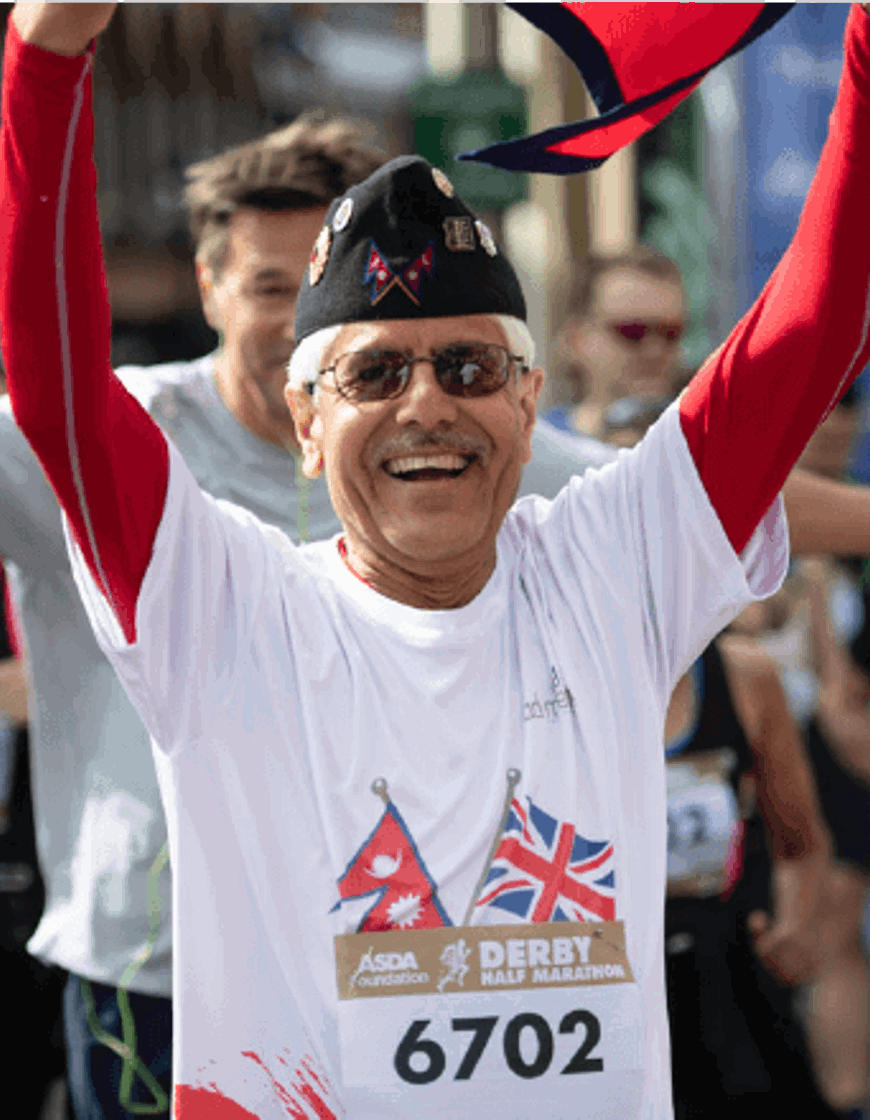 Event timings
| | |
| --- | --- |
| 07.15 | Race office & assembly areas open |
| 07.15 | Baggage store opens |
| 08.55 | Ramathon warm-up |
| 09.13 | Wheelchair race starts |
| 09.15 | Ramathon Race starts |
| 09.30 | RAM 5 Mile starts |
Start/Finish
The race begins in Iron Gate and takes runners through the city centre via the historic Market Place.
Then it's out on London Road and Shardlow Road, on to beautiful Elvaston Castle Country Park, through Elvaston Park and past Derby County's Pride Park stadium. Then it's back to the city centre for the big finish.
Elevation Map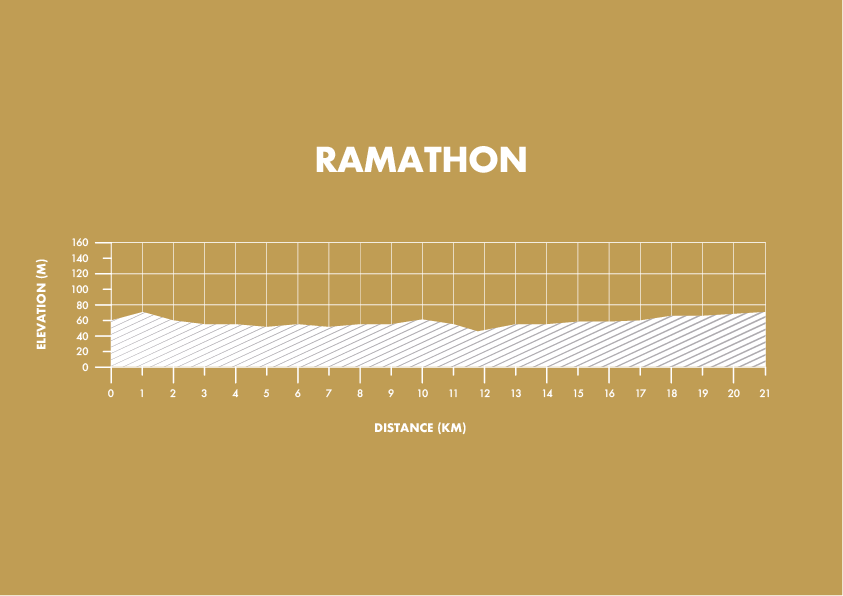 Facilities
Race Office
Will be located in the event village and open from 7.15am on Sunday. Please note that you don't have to register on the day.
Event Village
Playing host to our partner charities, Race Office, baggage tents our event village is located on Market Place.
Drink stations
Bottled water is available on course and at the finish. Please see the route map for locations. Competitors are advised to ensure that they consider the effects of dehydration and drink plenty of fluids to compensate.
Baggage Store
Please leave time to drop your baggage at the baggage store which will open in the Market Place event village at 7.15am. You will be able to retrieve your baggage from the same store after your run.
Goody bags
A selection of goodies awaits each finisher. There'll be plenty of tasty treats and an event t-shirt you can wear with pride to remind yourself of your achievement.
Friends & family meeting point
Make the most of our meeting points, located in Market Place, so your friends and family can meet you after the race with ease.
Toilets
Toilets can be found in the event village in Market Place.
Headphones on event day
Shokz – Official Sports Headphones Partner of England Athletics & Run For All

Shokz is the world's leading manufacturer of open-ear headphones, technology that enables you to listen to music whilst staying connected to your surroundings. Shokz sports headphones are the only headphones that are approved for use in all road races under the UK Athletics Rules of Competition.

Safety is a top priority

The partnership between Shokz, England Athletics and Run For All recognises that many athletes enjoy listening to music while warming up, training or competing. Whether it is taking part in events, running solo or socially with others, it's key that their experience is safe and enjoyable.

Music makes running more joyful

Running with music would make your run more joyful. With Shokz open-ear headphones, runners could listen to their favourite playlist or broadcast on the run while maintaining sociability.  

15% discount offer

There is a 15% discount offer for all Run For All entrants. To receive this discount entrants must purchase Shokz headphones via Up & Running and use a specific code. To receive this discount code, please contact our admin team via our contact form here
Race number delivery
Your race number will posted to the address that you entered when you registered for the event. Race numbers will start to be posted to your registered address from around 7 -10 days prior to the event. If you register on event week, then you will need to collect your race number from our race office on event weekend.  
Further details will be shared nearer to the event.
Address changes
If you have changed address since registration, it is your responsibility to inform us. However, we will also be sending out an email around eight weeks before the event to ask if you have changed address recently.
What if I'm coming from overseas?
Race numbers will not be posted to those participants who provided a postal address located outside of the UK as we can't guarantee the safe delivery of the race number.
However, if you do have a UK address that your race number can be posted to prior to the event, please contact us at info@runforall.com with details. Alternatively you will be able to collect your race number from the Race Office on the event weekend. Opening hours of the Race Office will be detailed on our website at www.runforall.com in the week prior to the event.
Using your race number bib
Your timing chip is affixed to your race number, do not attempt to remove or fold the chip. Do not pierce the chip with safety pins.

Wear your chipped bib number on your chest on the outer layer of clothing e.g. if a running jacket is worn, wear your number on top of this. Do not obscure/ cover your bib number + chip with a bum bag/ running belt.

We encourage runners not to position their arms to start/stop a personal timing device on or right in front of the bib whilst running over the timing mats themselves as this impedes the signal. Arms can be positioned slightly away from the body, or the devices can be started/stopped when the runner isn't on the actual mat.

Race numbers are not interchangeable and entries cannot be assigned, transferred, sold or gifted to any third party. Do not under any circumstances allow anybody else to run with your race number. Amongst other issues, this can create major problems for the medical team should they need to treat unknown runners.

Your bib & timing chip does not need to be collected in after the event and is yours to keep a memento of your race day!
Can't run anymore?

Race numbers cannot be interchangeable and entries cannot be assigned, transferred, sold or gifted to any third party. Do not under any circumstances allow anybody else to run with your race number. Amongst other issues, this can create major problems for the medical team should they need to treat unknown runners. Anyone found to have done this will be disqualified
£1 parking for entrants

Courtesy of our proud title sponsors Derbion, their shopping centre car park is the official car park for this event. Entrants will be able to park for £1. More details are to be emailed on event week.
How to get there
Travelling by car
The city centre is 15 minutes from junction 24 of the M1 and accessible via the A6, A50, A38 and A52.
Arriving by train
Frequent direct trains connect London and Derby in just 93 minutes. There are also regular services from Scotland, the North East, the Midlands and across the Pennines.
For more information go to www.nationalrail.co.uk or call 08457 48 49 50.
Travelling by Bus
National Express coaches operate daily to Derby from across the UK. Trent Barton (www.trentbarton.co.uk) and Arriva (www.arrivabus.co.uk/Derby) operate services from Derby Bus Station.
Travelling by Air
Derby is 30 minutes from East Midlands Airport. More information at www.east-midland-airport-guide.co.uk. Half-hourly Skylink buses operate between the airport and Derby.
Interactive Road Closure Map
Please see the below documents for the following:
A digital version of road closure timings that you are able to print out. 
A diversion map.