The Yorkshire Marathon has been a monster success since day one. In many ways it's the jewel in the White Rose County's sporting crown.
We like to think every element of The Yorkshire Marathon is charged with Yorkshire Spirit. Since the inaugural event in 2013, the event has got bigger and bigger.  Every year, thousands of runners of all abilities take to its truly breathtaking course.
But you'll never be far from the locals who will be out in force to cheer you along. The event is now such a global draw that spectators come from across the world to be part of the experience and to add their support.
As you head along University Road to the finish, remember; it's tradition to "do the Y" as you cross the line. Yorkshire, Yorkshire, Yorkshire!
Whether you're aiming to smash your PB or just looking to cross the finish line, the Yorkshire Marathon is the perfect experience for beginners and experienced athletes alike.
Tracker App

You can keep track of your favourite runners, whether they are friends, family, elite runners of famous faces with the 'Yorkshire Marathon' tracking app on race day. Simply go to the App Store or Google Play to download it free of charge. You can then search by surnames or running number and follow the runners(s) as they make their way around the course - updates will appear as they cross the timing mats; which are located at 10k intervals and the half way point.
Entry
Online entries for the Yorkshire Marathon are now open
Entrants must be 18 years or over on event day.
WHAT'S INCLUDED?
Chip timing
Finisher's goody bag
Quality tech T-shirt
Exclusive medal
A fantastic experience!
Event timings
| | |
| --- | --- |
| 07.00 | Race office , baggage store and assembly areas open to participants |
| 09.10 | Mass warm-up |
| 09.25 | Wheelchair race starts |
| 09.30 | Race starts |
Elevation Map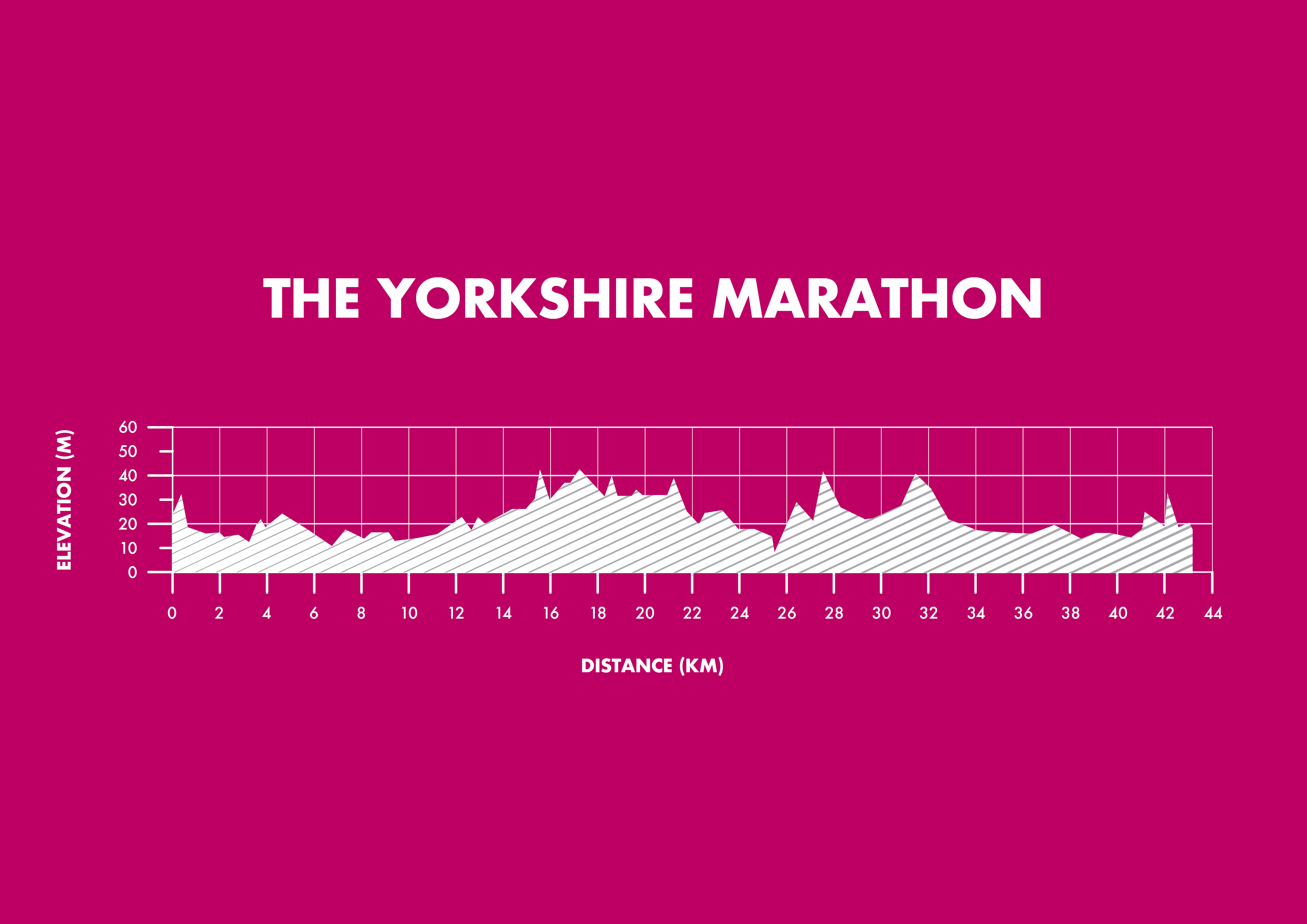 Facilities
Race office
Opens at 7.00am in the event village.
Baggage store
Opens at 7:00am in the event village. You will be able to retrieve your baggage from the same store after your run.
Water and Energy Stations
Bottled water will be available at every 3 miles throughout the course. High 5 Energy Gel stations at 9, 15 and 21 miles and High5 tabs at 6, 12 and 18 miles.. Water, high5 and a pint of well deserved Erdinger Alkoholfrei will be available at the finish.
Massage
Post-event massage will be available in the exhibition centre which is a short walk from the finish on route to the event village and Park and Ride.
Charity village
The Yorkshire Marathon partners with several local and national charities. Our partner charities will have a presence within the event village to meet and greet their runners and raise awareness of the important work of those good causes.
Support & entertainment
A variety of performers and charity cheerleaders will be on hand to keep you motivated around the course. We have Rock choir, City of York Pipe Band, The Gershwin gang, Marc Gunjal, Tengu taiko and finally Humber Drum Circles. Give them a shout out when you see them.
First aid
Should you find you require medical assistance, personnel will be on hand to help at regular intervals on the course with fixed first aid stations located near to the water stations. In addition there will be a first aid unit and recovery area located near to the finish.
Headphones
SHOKZ – approved headphones for RUN FOR ALL events
Using bone conduction technology award winning SHOKZ (formerly AfterShokz) deliver stereophonic sound through your cheekbones to your inner ear.
This means you can enjoy your music and still hear everything around you including traffic, emergency vehicles and other warning noises as well as race instructions from marshals and fellow competitors -potentially preventing accidents caused by traditional headphones and earbuds that block out these sounds.
Exclusively approved for use by UK Athletics. Official Headphone Partners of England, Scottish, Welsh Athletics and Athletics Northern Ireland.
15% discount offer. 
There is a 15% discount offer for all Run for All entrants. To receive this discount, entrants must purchase SHOKZ headphones via Up & Running and use a specific code. To receive this discount code, please contact our admin team via our contact us form here.
Race number delivery
Your race number will posted to the address that you entered when you registered for the event. Race numbers will start to be posted to your registered address. 
If for any reason your number doesn't arrive you will need to collect it from the race office during the event weekend.
Further details will be shared shortly. If you are activating a charity entry your race pack will be sent by Run For All but you will need to contact your chosen charity direct for any fundraising pack and t-shirt. 
Address changes
If you have changed address since registration, it is your responsibility to inform us. However, we will also be sending out an email around eight weeks before the event to ask if you have changed address recently.
What if I'm coming from overseas?
Race numbers will not be posted to those participants who provided a postal address located outside of the UK as we can't guarantee the safe delivery of the race number.
However, if you do have a UK address that your race number can be posted to prior to the event, please contact us at info@runforall.com with details. Alternatively you will be able to collect your race number from the Race Office on the event weekend. Opening hours of the Race Office will be detailed on our website at www.runforall.com in the week prior to the event.
Using your race number bib
Your timing chip is affixed to your race number, do not attempt to remove or fold the chip. Do not pierce the chip with safety pins.

Wear your chipped bib number on your chest on the outer layer of clothing e.g. if a running jacket is worn, wear your number on top of this. Do not obscure/ cover your bib number + chip with a bum bag/ running belt.

We encourage runners not to position their arms to start/stop a personal timing device on or right in front of the bib whilst running over the timing mats themselves as this impedes the signal. Arms can be positioned slightly away from the body, or the devices can be started/stopped when the runner isn't on the actual mat.

Race numbers are not interchangeable and entries cannot be assigned, transferred, sold or gifted to any third party. Do not under any circumstances allow anybody else to run with your race number. Amongst other issues, this can create major problems for the medical team should they need to treat unknown runners.

Your bib & timing chip does not need to be collected in after the event. It can be disposed of in general waste, or kept as a memento of your race day!
Your race pack
Important event day information will be sent to you by email and will also be available online.
Please add Run For All to your safe senders list to ensure you receive our key messages. If you're not receiving our emails, please check your junk folder just in case.
Your race pack will contain two items:
Your race number with timing chip (baggage label attached)
Can't run anymore?

Race numbers cannot be interchangeable and entries cannot be assigned, transferred, sold or gifted to any third party. Do not under any circumstances allow anybody else to run with your race number. Amongst other issues, this can create major problems for the medical team should they need to treat unknown runners. Anyone found to have done this will be disqualified
York enjoys excellent road and rail links and is one of the most accessible cities in the UK. Direct train services link York with London in just two hours and travelling to Edinburgh takes only slightly longer.
Great motorway links put visitors within easy reach of Leeds, Manchester, the Midlands and the rest of the UK while Leeds/Bradford Airport is less than 30 miles away.
Car parking at the University of York is for Blue Badge holders only.

If you are a Blue Badge holder and would like a place reserving, please contact info@runforall.com providing your full name, address, car registration, date of birth and contact number. Please note you will need your Blue Badge to access the parking facilities.
Key locations
Parking site location
Elvington Airfield, Elvington, York YO41 4AU Note: This is a dog-free site. GOLD and GREEN routes.
Spectator point location 1
Stamford Bridge spectator hub, Stamford Bridge, York YO41 1AX. Note: Bus will stop in nearby village of Stamford Bridge. BLUE and GOLD routes.
Event village location
University of York Campus South, Heslington, York YO10 5NJ. All routes.
Spectator point location 2
Dunnington spectator hub, Dunnington, York YO19 5LL. Note: Bus will stop in nearby village of Dunnington. BLUE and GOLD routes.
Last bus
The final bus departs from University of York Campus South at 5.00pm
Spectator point location 3
York Minster, Deangate, York YO1 7HH. Note: Bus will stop at nearby York Railway Station. GOLD route only.
Key timings
6.00 Park & Run car park opens at Elvington Airfield
6.30 Park & Run services and shuttle buses to Event Village commence
Buses will run on a loop every 30 minutes at the following locations:
9.00 – 11.30 Stamford Bridge
10.00 – 14.30 Dunnington
10.00 – 13.00 Elvington
12.30 Return Park and Run services and shuttle buses in operation
17.00 Last shuttle bus leaves University Event Village for Elvington Airfield
Journey durations are as follows:
Elvington Airfield – University Event Village
20 minutes
University Event Village –
Stamford Bridge 30 minutes
Stamford Bridge –Dunnington
15 minutes
University Event Village – Dunnington
15 Minutes
University Event Village –City Centre
10 minutes
Drop-off points
There will be two designated drop-off points available at the University on race day. Please note this facility is for drop-off and collection only.
Simply follow the signs to the drop-off locations.Please make arrangements for collection well in advance as waiting will not be permitted.
West Loop: A19 / Main Street (Fulford)- Broadway - Heslington Lane; for participants travelling from the city centre and/or west of the city.
East Loop: Church Lane- Innovation Way - University Road - Field Lane; for participants travelling from the A64 and/or east of the city.
Don't forget to plan your journey
Check out the information below to be sure you get to the event on time. Note, things get pretty busy, so leave lots of time and watch out for road closures.
How to get there
Travelling by car
*Car parking at the University of York is for Blue Badge holders only.
On Marathon day, dedicated park and ride schemes will operate to bring runners to and from the start and finish points at the University of York.
A Park and Ride service will be in operation from Elvington Airfield. Please click for further information on the Park and Ride service.
Travelling by bus
City-centre shuttle service - This service will operate from York Railway Station (Stand J) and will go DIRECT to the Event Village from 7.00am. Priority will be given to runners before 8.30am and tickets will be available for purchase on the day of the event.  
Regular timetabled service - You can take advantage of regular timetabled bus services from the city centre to the Event Village. Services include the First Group No.66. For further information, please visit www.firstgroup.com.
Travelling by train
York is on the UK's main East Coast line and travelling by train is both fast and easy. It takes just two hours to reach York from London, while Edinburgh is around two and half hours away. There are also direct services into York from Liverpool, Manchester, Birmingham and the South West. Please visit www.nationalrail.co.uk for further information.
Arriving from the airport
The nearest airport to York is Leeds/Bradford Airport, which is less than 30 miles away (approximately 50 minutes by car). A direct bus service links Leeds/Bradford Airport with Leeds city centre, from where frequent trains run to York (journey time around 30 minutes). Manchester, Humberside and Robin Hood (Doncaster/Sheffield) airports are also only a short distance away.
Travelling by sea
York is around an hour from the ferry terminal at Hull which has daily sailings to Holland and Belgium. Newcastle, which also regular sailings to Amsterdam, is less than 90 miles and two hours away.